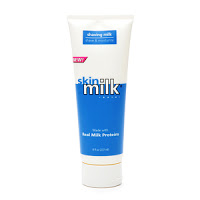 Oh, hi! I'm still dealing with a horrific cold (PS, it's my second in 3 months… what is that about) but I managed to have a good weekend anyway. I took a lot of Nyquil, saw an off broadway play called Queens Boulevard, celeb-spotted Michael Kors (!) in front of the Regal Cinema in Union Square (thanks, L!), went to Mercbar for my friend Emily's birthday bash, and saw P.S. I Love You with Lauren (I found it pretty cheesy with a grandiose soundtrack that didn't go with the movie. But do see it for an appearance by the dude who played Denny in Grey's Anatomy– He has an Irish ACCENT in it).
Oh, and my countdown has officially started: only 25 days till LOST!
Back to the subject at hand. I am loving this shaving cream for its moisturizing properties. AND it gives me a close shave.
Skin Milk Shaving Milk's creamy texture is neither too thick nor too thin and has a pleasant fresh milk and vanilla scent. It seems to give me an extra layer of protection while still giving me a close shave and, major points, it doesn't clog my razor. I haven't had any nicks or cuts while still getting a very close shave and my legs are left comfortably moisturized. My post shaving lotion – this week, it's Vanilla Spice Body Butter by Body Shop – even works better when I use this shaving cream. This luxurious cream even has 5% real milk protein plus vitamins A, D, and E to leave your skin hydrated.
At $5.59, your wallet will love it just as much as your legs do.
Another thing my legs love? My new Sorel boots that arrived on Friday. I loathe Uggs with the intensity of a thousand suns, and my pair of Emus I'd been rocking since 04 were not in good shape. I tried these Sorel boots on while I was in Philly over Christmas and feel in LURVE. They're so comfy with soles that rival sneakers' bounce and are warm as HECK. Plus, I think they're super cute. I rocked them today with my sweatsuit alternative (as Tim Gunn says on Tim Gunn's Guide to Style) I like to wear on Sundays.