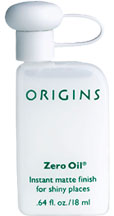 Dolls, I've had it. Shine is great for your clothing, your hair, your eye makeup. It's so NOT okay on your FACE. You know how every seven years your entire cell composition is supposed to change so that you're literally a different person (from a cellular perspective) every seven years? Well I've had oily, dry and combination skin in the last 10-15 years. I remember I used to have very dry skin in like, 8th grade and had to use the most hydrating moisturizer imaginable in the winter. Then, early in high school, I was veering into oily territory and I used this shine controlling astringent that came in a green bottle manufactured by Clean & Clear ONCE and didn't have shiny skin again until… NOW. I'm serious. Naturally, I searched far and wide for that astringent, but they no longer make it. In my quest for a replacement, I came across Origins Zero Oil, a slightly-thicker-than-astringent mattifier. I squeezed a small amount onto a cotton ball, applied to the T zone, and reveled in my non-reflective lifestyle. $11 for .64 oz.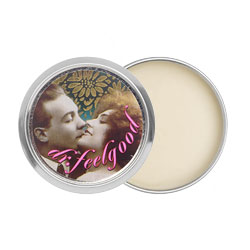 I'm also loving Benefit's Dr. Feelgood, an anti-shine complexion balm. It's not a powder (which you know I'm anti due to its aging properties) yet does the job of one. It's SUCH a conundrum to live in the world in which we do, n'est-ce pas? Don't use powder lest you age more quickly than necessary, yet somehow find something to temper shine/oil. Don't call boys, but know that stugressive girls who have totally given up on being pursued in the slightest, are, hence forever altering the dating dynamic. And then there's the whole carbs/noncarbs situation. Decisions, decisions.
At least your face will be looking fly in photos.
Photo credits: origins.com and sephora.com.