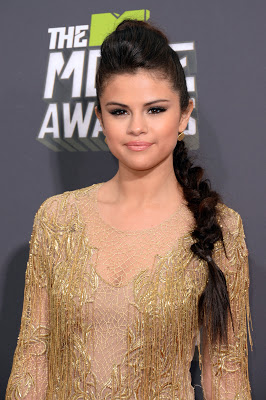 I just can't figure out where to even channel my sadness and rage about
Boston
, but if I don't discuss things like phenomenal braids, well, then the terrorists win, don't they? It sounds trite, but there is truth to it, so onto happier things like my favorite hairstyle at the
MTV Movie Awards
, that of Miss 
Selena Gomez. Keep your eye out for Selener in THAT dinosaur braid. 
Here's the scoop on how to recreate this look from Selena's hairstylist,
Marissa Marino
of the Nine Zero One Salon, using
UNITE Hair Care. 
1.
To create the pompadour, section off hair from the front of your hairline and sprinkle it with the
UNITE Expanda Dust
($25) throughout. Tease it back, using a comb. Next, pin this section with a bobby pin to secure it in place.
2.
Take the rest of the hair and make five small ponytails down the center of your head.
3.
Create a French braid using all of the ponytails together. 
4.
Spray the
UNITE Session Max Hairspray
($29.95) all over to tame frizzies and smooth the sides around the hairline.
5.
To make the braid look undone, pull it apart and pin these pieces down, using bobby pins. 
6.       Finish the look with the UNITE Max Control Hairspray ($27.50) to tame down any flyaways.
What do you think?

Like this post? Don't miss another one! Subscribe via my RSS feed.