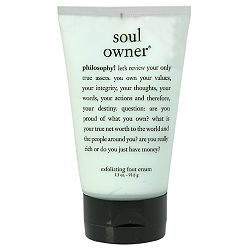 First of all, TGIF. Hasn't this week been, a SERIES of Fridays? I just discussed this with my colleague Heather, and she pointed out that this is the third Friday of the week. Why was it so LONG? Anywho.
So I was first introduced to Philosophy's Soul Owner in their adorable gift pack called "Birthday Girl," which I natch received on my birthday from former roommate J. The pack includes all the necessities for slowing the hands of time, it's great. Of late, I'm loving Soul Owner, Philosophy's exfoliating foot cream. Being that I am an owner of a soul, I tried the stuff out a couple of weeks ago. I'm hooked, I'll just say it. I know it's no longer summer, but that is no reason to allow your tootsies to resemble those of a brontosaurus, right? This silky creme goes on easily, is packed with salicylic and glycolic acids to help reduce rough soles and nasty knees. Also contains essential oils to help reduce foot odor. I love that something intended to moisturize does double duty to slough off dead skin. Who wants to hang on to that? Not me! $14 for the full sized 3.3 oz tube.
In other news, I loved last night's episode of The Office. "You cannot take the hilarious black man from the office. Wanted: middle-aged black man with sass. Big butt. Bigger heart. I can't…do this…" Can you imagine life without Stanley!! Thank the LAWD he decided to stay in Scranton. Whew.
Photo credit: sephora.com.