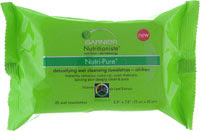 It's NOT coming together today, friends.
I was at a beyond black tie benefit last night and am NOT feeling so festive today. There is a time and place for that much Prosecco and it is most certainly not midweek in 2007. I came home circa 2:30am and have NEVER been more excited to go directly to bed. Unfortch, I had to remove my "beyond black tie" makeup first. I located my Garnier Nutri-Pure Detoxifying Wet Cleansing Towelettes and proceeded to remove my makeup while laying in bed. What's better than that? The towels are oil-free and remove everything including mascara in one fell swoop. Love, love, love these.
Then I applied my trusty Guerlain's Issima Midnight Secret (though it was way past midnight) all over to ensure I wouldn't look the way I feel today. The stuff is lauded as "sleep in a bottle" and not for no reason. Three drops replenish moisture and oxygen to your skin and you wake looking refreshed, though you may still vitally need a bagel. Just saying.