Fictionary is a column showcasing beauty-related words that don't exist, but should.
I hit up makeup artist to the stars
Bruce Grayson
and dermatologist extraordinaire Dr. Diane Berson about the very best way to cover a blemish.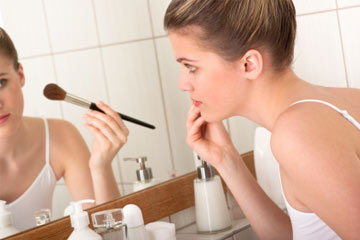 To prep the area, Dr. Berson says the best thing to do is get a cortisone shot from your dermatologist. If you can't swing an emergency appointment, she says applying an ice cube to the affected area and then dabbing on cortisone cream will do the trick to "reduce redness and swelling so the bump looks smaller before you put on makeup."
Bruce says to prep your canvas with a product containing Niacinimide (I like
SkinCeuticals MetaCell Renewal Fluid
) before applying foundation if and where you need it (T-zone, etc.) before camouflaging any zits. "I've heard a million things about how you use a round brush and target the blemish," says Bruce. "But when the eye looks at it, you'll create texture on top making the pimple more obvious." The solution? "You take the color away from the blemish and also be sure to take the color well beyond what you're covering up." He says to use two colors: one to take away the redness and another to augment it before sweeping over the area with a small amount of powder to set it. That way, the area doesn't become texturized, especially if you take the circumference of the concealer beyond what you'd normally do, which is solely on the zit. "Don't make the edge even, make it jagged," he explained. "Do a dark shade and then the light hue or mix them both together leaving an irregular border."
Concealer Without Borders, friends. It's a thing and I'm trying it the minute I have a blemish. Not that I'm looking forward to that, but you know.
And tell me: What are your tried-and-true methods for covering up a pimple?