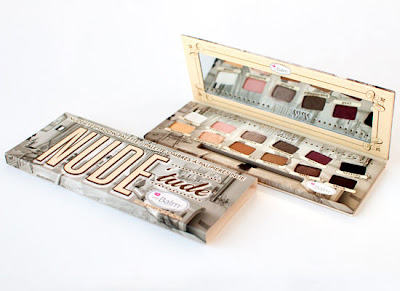 TheBalm's Nude 'Tude palette includes 12 wantonly wearable shadows in a broad range of neutrals with a few wildcard deeper shades in the mix. The obvious competitor to it is Urban Decay's Naked Palette (both 1 and 2), by sheer virtue of the fact that they're both based on nude hues, but actually the shades are quite different. Here's a rundown of the all the muted (and not-so-muted/louder tones):

Sassy: A highly pigmented, frosted white.
Stubborn: A light-medium peach with a soft frost finish.
Snobby: A gold shimmered medium yellow.
Stand-offish: A light-medium shimmery beige, recalls Stila Kitten.
Selfish: A mushroomy taupe with shimmer.
Sophisticated: A deep brown with subtle warm undertones and a bronze shimmer.
Sultry: A matte, medium brown.
Schitzo: A warm, golden bronze-brown with a pearlescent texture.
Sexy: A matte, rich burgundy with hints of red. MY FAVE.
Silly: A red-tinged brown with copper sparkle.
Sleek: A matte, deep black-brown hybrid.
Seriously, each shade is incredibly wearable and while remaining on the spectrum of easy-to-wear neutrals, they run the gamut from dark to light with varying levels of glimmer. Infinitely vaca-packable. In fact, there's only one person on EARTH I can envision NOT loving Nude 'Tude:
TheBalm Nude 'Tude retails for $36 at shopnbc.com.
Like this post? Don't miss another one!
Subscribe
via my RSS feed.