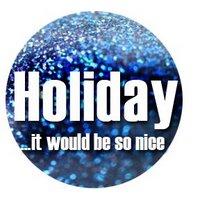 Dudes (and math) are a mystery, but what to buy them for the holidays ISN'T. Here's what I recommend at a broad range of price points:
Anthony Logistics for Men Gifted Grooming Set ($60)
This convenient travel pouch is filled with the best-selling Anthony Logistics essentials: Glycolic Facial Cleanser, Face Scrub, Pre Shave Oil, Shave Cream, After Shave Balm, Sea Salt Body Scrub, Glycerin Hand and Body Lotion. The brand is a fave of my friend Anthony from high school, natch.
Perf for the ultimate man! Kind of expensive, but includes everything he needs to clean up his act in full-sized bottles. Gift Collection includes:
Amino Acid Shampoo
Facial Fuel
Original Lip Balm #1
Ultimate Strength Hand Salve
All-Sport Foot Cream
"Ultimate Man" Body Scrub Soap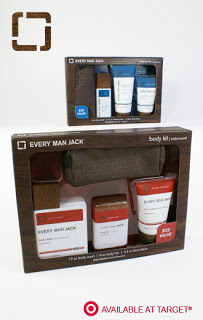 Every Man Jack Body Kit
($10)
The price is nice for a holiday gift during this financial apocalypse,
n'est-ce pas
? The set (pictured, left bottom) contains their
hydrating body wash, cleansing body bar, and moisturizing face lotion
, all in the delishly masculine
cedarwood scent
.
Space.NK's Men Blue Collection ($95)
I love, love, love the way this smells. The scent is a blend of lime, grapefruit, star anise and basil is softened by geranium and amber and settles down onto a clean, woody base of cedar leaf, patchouli and oakmoss. Masculine in a non-high school way. Contains a full-sized shave cream, body wash, and eau de toilette.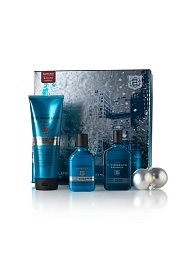 C.O. Bigelow Barber Classics Gift Set Elixer Blue ($30)
The Elixir Blue fragrance blends aromatic watery marine notes, lavender and rosemary with hints of clean white musk and woody undertones. This set of Elixir Blue favorites includes: Hair & Body Wash, After-Shave Balm, and Cologne. It also comes with a bonus card he can use toward a future C.O. Bigelow Barber purchase.
He'll be grooming with glee in no time. Which means he'll stop using your limited-edition-from-two seasons-ago-shower gel you've been saving for the ultimate special occasion to wear around the house to watch football.