No one glows like J.Lo, and Mary Phillips and Tom Bachik for L'Oreal Paris made sure of that. Here, the beauty breakdown on the triple threat's makeup and nails for Hollywood's biggest night.

MAKEUP
Mary stuck to a monochromatic palette of warm peaches and diffused bronzes around her eye, paired with a cool toned pink lip that had glacier blue undertones for a royal effect.
STEP 1: Mary prepped the skin with L'Oréal Paris Revitalift Moisture Blur ($24.99)
STEP 2: Next, she applied L'Oréal Paris Infallible Pro-Matte Foundation in Classic Tan ($12.99) followed by Armani Fluid Sheer #13 as a highlighter
STEP 3: She enhanced brows using L'Oréal Paris Brow Stylist Designer in Blonde ($7.99).
STEP 4: To create the eye look, Mary turned to NEW L'Oréal Paris Colour Riche La Palette Nude ($19.99, available in April) followed by accents of L'Oréal Paris Infallible Smokissime Powder Eyeliner Pen in Taupe Smoke ($9.99)
STEP 5: She then curled lashes and applied multiple coats of L'Oréal Paris Voluminous Miss Manga Black Angel Mascara ($7.99)
STEP 6: To complete the look, she used L'Oréal Paris Infallible Pro-Last Color in Timeless Rose ($12.99) on the lips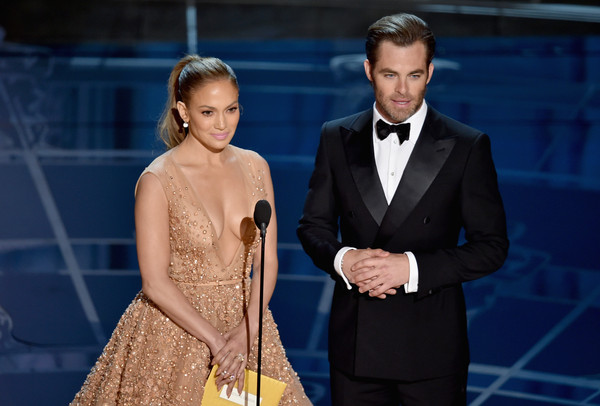 NAILS
Says Tom, "Tonight it was all about the dress. The gown was the star of the show and we wanted to create a monochromatic, tonal nail look that would enhance the overall look."
STEP 1: Tom added a little length to nails with clear tips to create a 1930s almond shape
STEP 2: For a subtle, sparkly contrast, he applied L'Oréal Paris Colour Riche Nail Polish in I Like It Chunky ($5.99) underneath the nail, adding a pop of rose gold
STEP 3: Last, he added 2 coats of L'Oréal Paris Colour Riche Nail Polish in Mauveless ($5.99) and completed the look with L'Oréal Paris Age Perfect Glow Renewal Facial Oil ($24.99) for shine and moisture
What do you think of Jennifer Lopez' look at the Oscars? I LOVED it, and would love it more with 33% more DRESS. Those vulgar necklines on a bust that big are not my jam. #prissy