REVLON Global Brand Ambassador Olivia Wilde looked ravishing in Valentino last night. Celebrity makeup artist Mélanie Inglessis and manicurist Chelsea King created an ethereal look enhanced by a soft smoky eye and peach undertones for Mrs. Jason Sudeikis. Here, the beauty breakdown.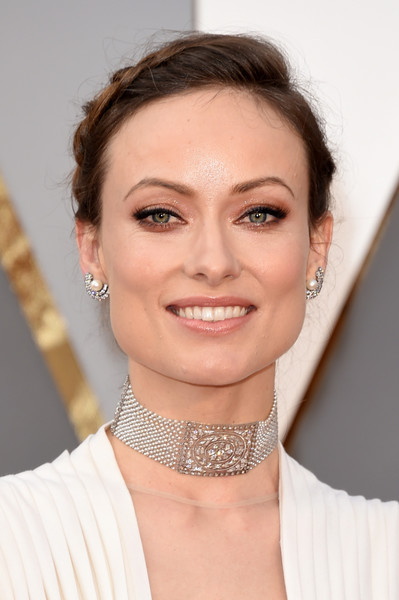 "Olivia's Valentino Couture dress is so dreamy! When I saw her in it, I immediately thought of a soft ethereal look but wanted to incorporate Olivia's coolness as well. We went for a soft smoky peachy and gold eye with earthy tones to define it for an overall soft a beautiful look,"Mélanie said.
FACE:
Skin was prepped with REVLON ColorStay Makeup (SRP: $12.99) followed by NEW REVLON ColorStay 2-in-1 Compact Makeup and Concealer (SRP: $15.99) to give a flawless long lasting look.
Inglessis highlighted Olivia's cheekbones and brow bones with REVLON Highlighting Palette in Peach Glow (SRP: $10.99) to bring light to the face, followed by REVLON Powder Blush in Classy Coral (SRP: $9.99) to just the apple's of her cheeks to add freshness to the look.
EYES:
To create the soft smoky eyes, Inglessis started with REVLON ColorStay 16 Hour Eye Shadow Quad in Decadent (SRP: $7.99), also blending colors #2 and #4 across the bottom of lash line to create depth and enhance the smoky finish.
To add some glamour, REVLON PhotoReady Eye Art in Burnished Bling (SRP:$8.99) was applied just in the center of the lid for a pop of sparkle followed by REVLON ColorStay Liner in Black (SRP: $8.99) drawn along the top lash line into a soft wing to compliment her lashes.
Brows were softly feathered with REVLON Brow Fantasy in Light Brown (SRP: $7.50).
As the final touch, lashes were brushed with 2 coats of REVLON Ultimate All-In-One Mascara in Blackest Black (SRP: $8.99)
LIPS:
Lips were gently outlined with REVLON ColorStay Lip Liner in Natural (SRP: $7.99) then painted with REVLON Super Lustrous Lipstick in Champagne on Ice (SRP: $7.99) for the perfect nude pout to complete the look.
NAILS
"For Olivia I picked a gorgeous pinky nude for both her hands and feet that would complement her dress and skin tone perfectly. I finished with the Revlon Gel-Envy Diamond Top Coat for tons of shine and staying power," Chelsea King said.
King painted Olivia's nails, both fingers and toes, with two coats of the ethereal pink REVLON ColorStay Gel Envy in Up In Charms, the polish features both a base and color in one product for easy application.
She sealed the polish with REVLON ColorStay Gel Envy Diamond Top Coat to add a brilliant diamond shine to the nails and balance Olivia's smoky eye.