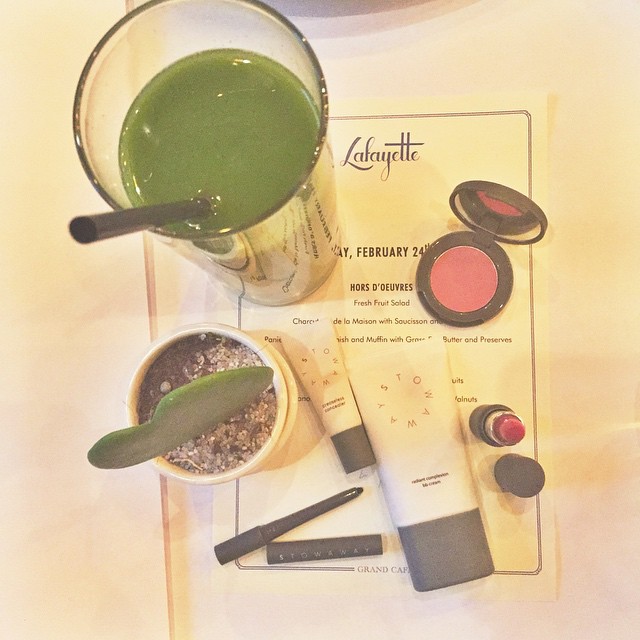 New Yorkers are paragons of efficiency, mostly because we have to be. We speak quickly, only as much as we need to with strangers (small talk is not typically time-effective, let's be real) and we positively Tetris furniture into our tiny dioramas of apartments. We ladies do this on a micro scale as well with our purses. Those outside of our teeming metropolis can store things they need to go about their days in cars, while we are limited to our purses and must be judicious about what goes in them, as we're carrying them up and down steps, blocks upon blocks as we go about our days. If we want to fit more into our makeup bags in a teensy tiny space, we either have to sacrifice items or simply downsize the items we have to cram in more.
That's where Stowaway Cosmetics comes in. This genius start-up offers great quality basics in pint-sized packages. Plus, when was the last time you finished a lipstick? Exactly. These paraben-, phtalate- and cruelty-free items streamline your stash instantly.
I'm a fan of the eyeliner ($10) (seriously, who needs a gigantor one on her person?) and the BB cream ($22) especially. The latter boasts great color pay-off and a blendable, moisturizing formula. The kit featuring the brand's line-up of six items retails for $75, a great deal whether you want to downsize your stash or keep an extra kit in your carry-on, as I do (minimalism, alas, is not my thing).
I love that it's like makeup for Borrowers! I'm tempted to speak to these little lipsticks in my voice regularly reserved for pets.
Stowaway Cosmetics are available exclusively at stowawaycosmetics.com. Are you into tiny cosmetics? Share your thoughts in the comments.