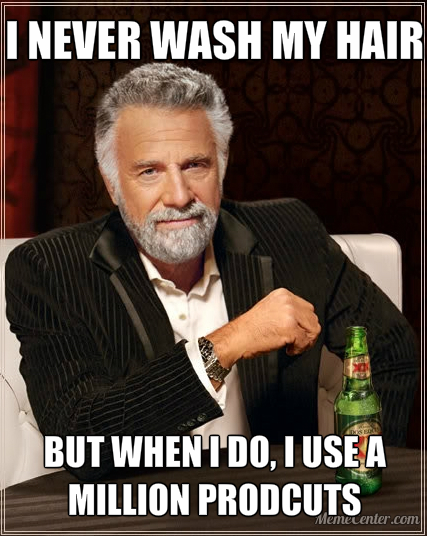 It is very rare that I wash my own hair, so rare in fact that I once exclaimed to a friend "today I washed my own hair" and he responded, puzzled, "but isn't that what everyone does?"
But when I do wash my hair, I make it an event–I always use at least 7 products. Here they are: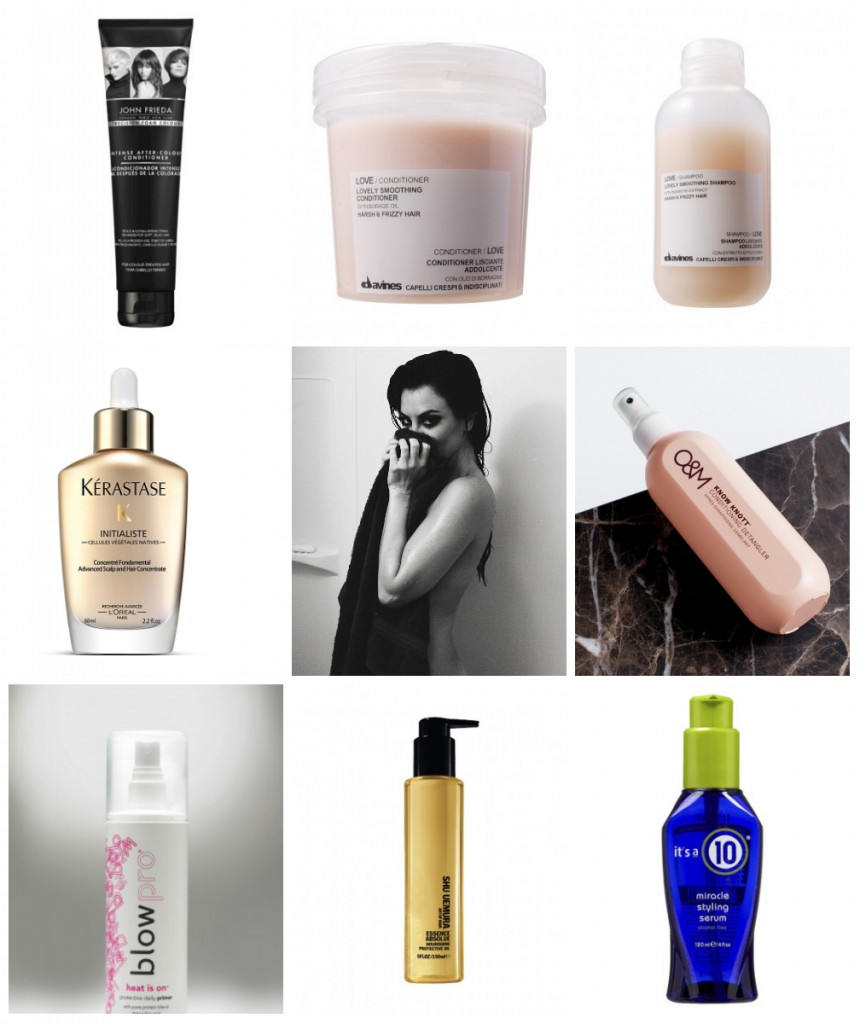 1. Some type of mask: I comb loads of John Frieda Precision Foam Colour Deep Conditioner through my dry strands and make a bun while I answer emails or watch TV. I can leave it on from anywhere between 10 minutes to an hour– it really depends how distracted I get. This used to only be available in John Frieda Color Kits but since people loved it so much they decided to sell it alone. I don't have colored hair, but it is deeply hydratrying so I use it as a mask.
2 + 3.  Shampoo and conditioner: Since I always want to test out new shampoos/conditioners for you great readers, I'll bring the latest launches with me when I get my hair done and my stylist and I will discuss whether we like them. However, when I wash my hair at home, despite having access to all the same products, I usually just stick with my favorite Davines Love Shampoo and Conditioner, that I found via Birchbox. In looking on their website for the link I also came across this amazing set, which at $24, is a major steal. If you're in the market for some new hair stuff, I highly recommend this brand.
4. Kerastase Advanced Scalp and Hair Concentrate: I put this on my roots because it's supposed to be like a face serum but for your hair. I don't always remember to use it but my hairstylist approves because it doesn't leave my roots greasy and anything that deposits that many nutrients in one drop, can only be good for you.
5. O&M KNOW KNOTT Detangling Spray: I just want my hair to be really soft, okay? This spray is a delicious mix of cold-pressed organic argan and macadamia oils which means nothing will make your hair softer, or smell better, than this.
6. Heat protectant: I'm just trying to be responsible. Heat-protectant is probably the most important product on this list, so get a good one. I like Blowpro The Heat is On. 
7.  Serum: At the moment I am using either this one from SHU UEMURA or It's a 10.
—Julia Casella
Follow Julia on Twitter: @Julia_Casella.
What's on your hair today?