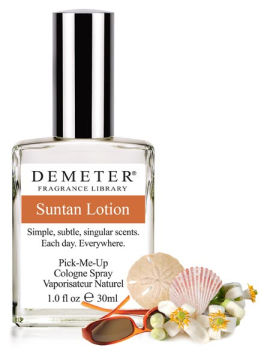 Demeter has a billion (okay to be exact, they have a little over 250) scents but this one has captured my heart.
Yes, you could just wear suntan lotion, but I think this smells even better. Lately the sunscreen I've been using is all fancy and doesn't really adhere in the olfactory sense to the classic scent we know and love. This single-note non-coconut scent is so delicious on its own, but like all their scents, it is very easy to layer. I love pairing this with like salt air so even when it's raining and my AC is blasting, I can pretend I'm at the beach.
Find more at demeterfragrance.com.