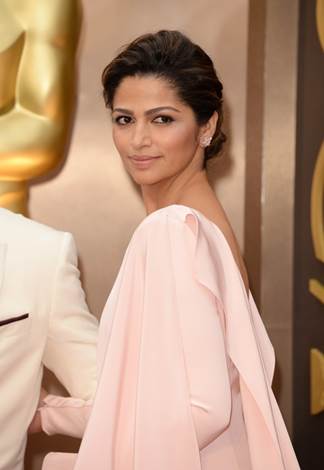 Camila Alves, wife of Oscar Winner for Best Actor Matthew McConaughey, looked more than just alright alright alright on the red carpet last night at the Oscars.  Celebrity makeup artist Patrick de Fontbrune created her look using Votre Vu products. Said Patrick, "Our inspiration for tonight's look on Camila is very old classic Hollywood with a modern twist featuring warm and golden tones.  She's wearing a beautiful soft flush pink/salmon Gabriella Cadena dress with an opening in the back and it is just stunning." Here's how he got the look for Miss Camila.
"I started by applying Votre Vu's Champagne Kisses on Camila's lips for hydration.  Then, I began to moisturize her face first with VBeaute's Anti-Wrinkle Protecting Serum and then applied Votre Vu's Attentive Crème du Jour with a brush.  For her eyes, I dabbed VBeaute's Nourishing Repair Eye Cream all around.
To even out her complexion and give a golden glow, I mixed Votre Vu's Love Me Deux Tinted Moisturizer in Paris and St. Tropez and stippled it onto her skin using a sponge.  This allowed me to concentrate and build the coverage where needed.  For the more delicate areas, such as under the eyes, I used my fingers to apply to tinted moisturizer.  Applying the product this way allowed me to achieve the most flawless results.  Camila has perfect skin so the Love Me Deux provided just enough coverage. I really love this product because it comes with a matching concealer that makes it foolproof!  I spot concealed around her nose and under the eyes for a flawless finish, then used a touch of Lingerie Pour Les Yeux in Medium over her eyelids to even out the skin there as well.
Next, I went over her T-zone and eyelids lightly with Belle Poudre in Golden Medium and Medium to fix the makeup in place.  This also helps the eye shadow to stay put and make the colors stay true.
Using Votre Vu's Palette Play in Copper, I applied the light beige color for the base all over the eyes and then used the light gold color on the lids. I applied the deepest bronze along the crease and along the upper and lower lash line, and then pulled it out on the outer corners to elongate the eyes.  To blend the eye shadows seamlessly, I used a soft angled brush.
Next, using Votre Vu's Le Joli Crayon in Charbon, I lined the upper lash line and inside the upper and lower lids to add depth to the eyes.  To give more drama to the lashes, I used an eyelash curler and made sure to apply the Eiffel Power mascara from the very root to the top, applying from underneath.  This helps to keep the curl and prevent the mascara from weighing the lashes down.
To accentuate the look, I filled Camila's brows in with Arch de Triumphe in Fair. This product went on so smoothly and didn't move, but still was easy to blend.
On the cheeks, I applied Vu-On Rouge in Amourette (available Spring/Summer 2014) and dusted the pink blush in the Beauté en Bronze duo on top over the apples of her cheeks. Then I took the bronzer from Beauté en Bronze and applied is all over, carefully shading and sculpting her face in the process.
Lastly, I lined and filled in her lips with Votre Vu's Drawmatic Lip Liner in Naked, applied French Kiss in Lisette on top, and finished off the lips with Lip Lustre in Tender (available in Spring/Summer 2014). The French Kiss lipstick is the one product she'll be carrying with her onto the red carpet!"
What do you think of this look on Camila Alves? Are you happy with Matthew McConaughey's win? I thought it was well deserved, myself!