Deborah-Ann Woll's come a long way since her glampire days of yore. Here, she dons a makeup concept that skews very old Hollywood done right, courtesy of celebrity makeup artist Brigitte Reiss-Andersen. Here, the beauty breakdown created the look of for the Premiere of Daredevil using Votre Vu products, per Brigitte.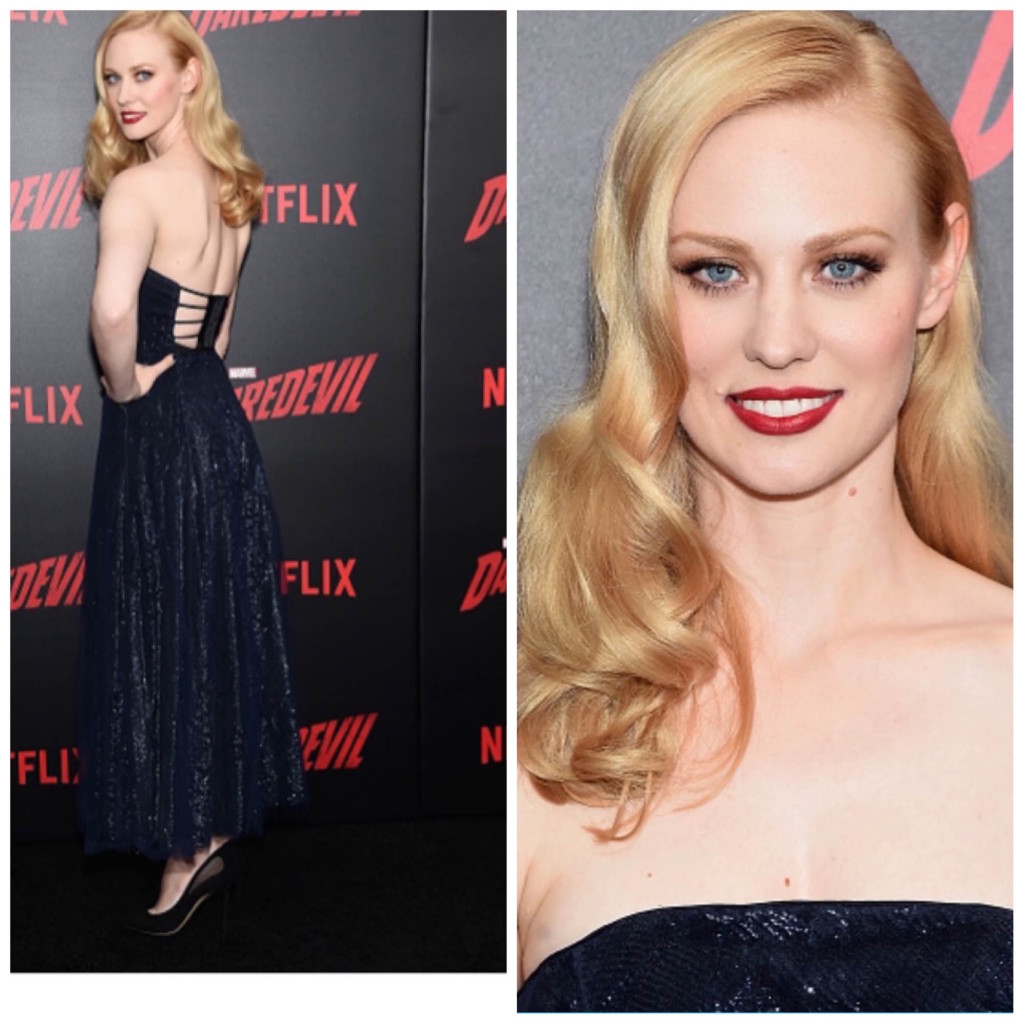 Brigitte began by prepping the face with the Votre Vu Crème Attentive De Jour all over and followed with the Armani Luminous Silk Foundation in number 2.
"I then lightly powdered the face with Votre Vu Belle Poudre HD in Light to compliment her beautiful skin."
"To give a light pink flush, I blushed up the cheeks with the Votre Vu Beaute En Bronze in Monaco with the pink color.
Brigitte then began on the eyes, which she did not want to compete with the bold lip.
"For the eyes, I began by lining the lower lash with a fine line using Votre Vu le Joli Crayon in Violectra which is actually the same color of her dress. Votre Vu Le Joli Crayon is easy to use, is an instrument of precision and you can control it completely."
Brigitte used Votre Vu Palette play in Copper and used the gold color on the lid for warmth and then added the copper color to the crease.
"I used Votre Vu Arch de Triumph in Fair and lightly brushed her brows. To complete the brows I used a mascara brush, and lightly dusted the copper eye shadow to add a dose of sparkle." Brigitte finished the eyes with a couple of coats of YSL Baby Doll Mascara.
Brigitte wanted to have all of the focus on the lips. "The dress is a great statement in itself; her hair is blonde and finger waved and I felt had to follow the classic hollywood rule of one point of focus, which was the lip."
"In order to create more depth, I lined and filled the lips with a darker pencil, Votre Vu Spark. I then filled it with Votre Vu French Kiss in Claudia, followed by blotting, powder and then another layer of lipstick.This is how we create more depth and make a very rich colored lip. The lips were really the drama of the look and paired with her gorgeous finger waved hair. The look was completed with an old Hollywood glamour  feel! The makeup was discrete with a fabulous red lip."