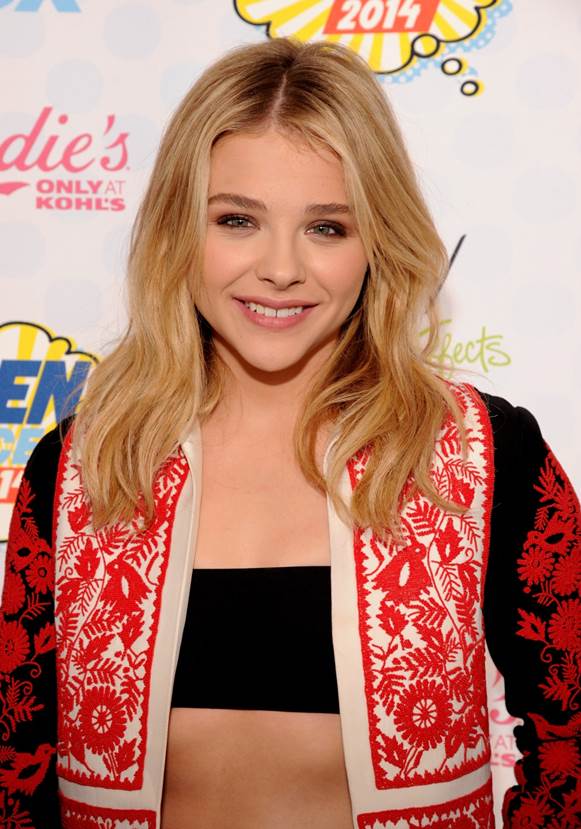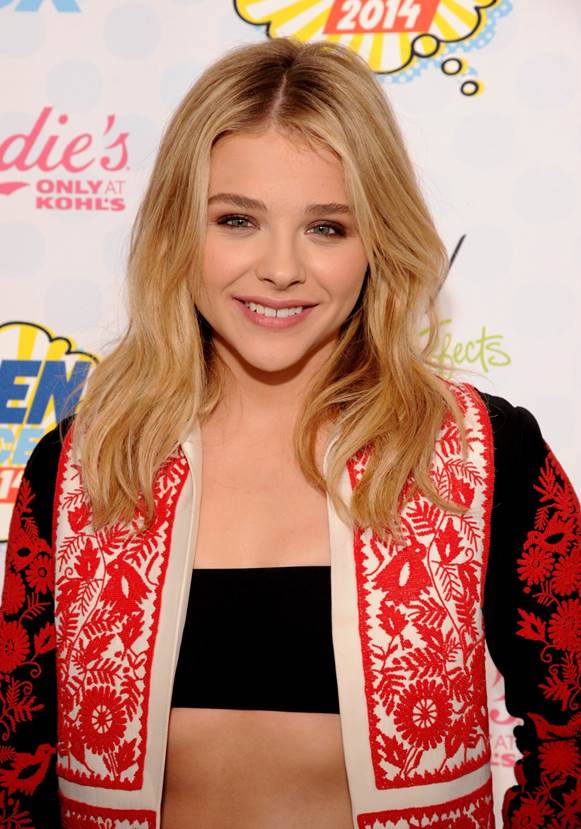 Celebrity makeup artist Mai Quynh created this stunning look for teen delight Chloe Grace Moretz for last night's Teen Choice Awards using Votre Vu cosmetics. Here, the beauty breakdown, courtesy of Mai.
"We went with a semi-smokey eye and light lips to play off of the dark colors that she's wearing. After prepping her face with La Mer Moisturizing Cream, I started with her eyes.  I first smudged Votre Vu's Le Joli Crayon in Charbon into her lash line. Then I rubbed a bunch of the pencil on the back of my hand, took a stiff, synthetic eye shadow brush and applied it like a cream eye shadow all over her lower lid fading up to the crease.  It will give the powder eye shadows something to stick to and will show through a little without being too intense.  I took the Palette Play in Nude and mixed the two shimmery brown eye shadows and blended it into her crease.  I smudged the same two colors underneath her bottom lash line and then lined her bottom waterline with Le Joli Crayon in Chablis.  This eye pencil is really smooth and soft and goes on so easily.  Since we wanted to make it a softer version of a smokey eye and keep it young and fresh, the Le Joli Crayon in Chablis gave it a bit of smudgey-ness but wasn't too harsh like a black or dark brown would've been.  To finish of her eyes, I applied two coats of Votre Vu's Eiffel Power mascara just on her top lashes.
I applied a foundation for the base and then went back with the NARS Radiant Creamy Concealer in Custard under her eyes and anywhere else that needed extra coverage.
For her cheeks, using a flat, stiff brush I applied the Votre Vu Vu-On Rouge in Bouquet Rose to her cheeks for a fresh glow.  This type of brush is usually meant for concealer, but I really like using it to apply cream blushes because it picks up more color and I find it goes on a little bit smoother.
To set her makeup, I applied the Zone Out T-Zone Shine Eliminator in Lumiere concentrating on the center of her face.
Next, I filled in her brows with Arch de Triumphe in Fair.  Chloe has great brows already, so I just used an eyeliner brush to fill in any sparse areas and then brushed them out right after for a more natural look.  I really love Arch de Triumphe, it's a really great product that gives color without being too severe.
I applied French Kiss in LouLou from the tube by dabbing it on.  Even though the formula is sheer, I only wanted a little bit of color so the main focus was her eyes."
What do you think of Chloe Moretz' look from last night's Teen Choice Awards?