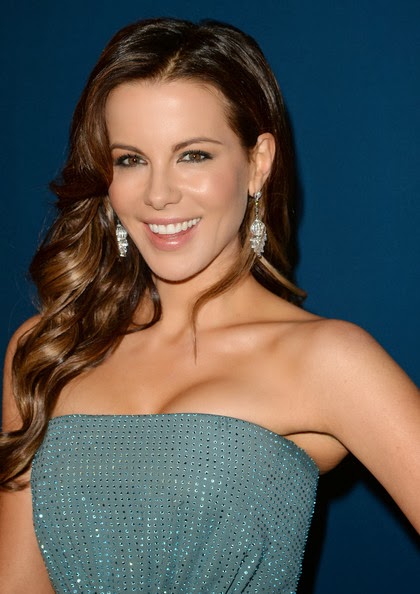 Mane man Sascha Breuer created Kate Beckinsale's soft, tumbling retro-waves at the third annual LACMA Art + Film Gala his weekend honoring filmmaker Martin Scorcese and artist David Hockney. Says Breuer, "We decided to go for a modern take of Veronica Lake's iconic style to compliment her crystallized pale-blue strapless Gucci gown with a nipped-in embroidered waist that was accessorized it with a silver Jimmy Choo 'Cosma' clutch and shimmering nude sandals. Softer, very touchable, less set, yet very polished and sophisticated." Here, how to get the look.
"After washing and conditioning gently towel dry your hair and apply Wella Elastic Energy Mousse through the hair, using a wide toothed comb to give this look staying power. Ensure that you spread the product right through to the tips of the hair to boost the energy of your curls with irresistible definition and virtually frizz-free shine. Blow-dry using a large round brush. Direct the nozzle upwards for added root-lift. Ensure the hairdryer isn't too hot, which can cause it to dry out and break, giving you frizz.Once the hair is completely dry, create a low side parting for added glam and section the hair into manageable pieces.
Use a medium size curling iron to create lush, tumbling waves.Tong each section working around the head turning the tongs one way and then the other to roll as you work round. It is important to set the temperature of your iron according to the needs of your hair to avoid heat damage. A great one is the Braun Satin hair curler.
Starting at the front and working backwards, wrap sections of hair around a medium-sized heated curling iron and secure each curled section with pins or clips. I would recommend that you use a curling iron that allows you to adjust the temperature to the needs of your hair. ( Love the one from the Braun satin hair range )
Spray the pinned hair lightly with Wella Stay Essential Hairspray and leave to cool.When the hair is completely cool, release the curled sections, remove all the grips and smooth through with your hands to loosen the ringlets.
Use a large soft brush gently brush through the curls to create smooth soft waves. Don't be attempted to over brush or the hair will become frizzy and loose its smoothness. A few drops of Wella Oil Reflections will work wonders to add the right level of smoothness and glossy shine to your hair.To finish use Wella Stay Essential Hairspray for added lasting but flexible hold. It will keep your style with sophisticated sheen full of shine and bounce."
What do you think of Kate Beckinsale's hairstyle? She always looks killer.

Like this post? Don't miss another one! Subscribe via my RSS feed.