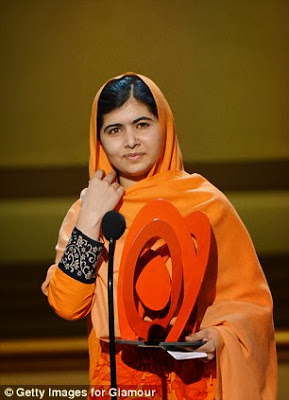 Malala Yousafzai

Truth be told, I straight up covet my invite to Glamour's spectacular annual affair. I went in 2009 and 2010 and then, alas, did not score an in until this year once again. And I was thrilled. Recipients and presenters included Hillary Clinton, Lady Gaga, Rose Byrne, Christy Turlington Burns, Iman, Liya Kebede, Melinda Gates, Gabby Giffords, Kaitlin Roig-Debellis, Catherine Martin and most of all, Malala Yousafzai. The scene? Editor in Chief Cindi Leive in burnt orange splendor, my man crush, Seth Meyers as MC (he did a wonderful job), pop star extraordinaire Lady Gaga in bride-of-Frankenstein wear, women who are doing things that are changing the world–and all of Carnegie Hall is softly scented with L'Oreal Paris Elnett. Here, my top five moments of the evening.


1. Malala Yousafzai's Impassioned Speech
This 16 year-old Pakistani girl caught the world's attention when the Taliban came onto her school bus and shot her in the head last October for criticizing the group's interpretation of Islam, which limits girls' access to education. She gave an incendiary speech that leaves no doubt in my mind that she will one day be a head of state. Many of her salient messages resonated with me because beauty is my industry and writing my function, but they rang true with impassioned power regardless of one's vocation. 
I believe the gun has no power at all. 
Beauty is not a face. Beauty is a light in the heart.
Support Malala Fund. They do not want chocolates. They do not want Xbox. They just want a book and a pen
This brave teen's incredible intellect posed such a threat to the men of the Taliban that they attempted to eliminate her–and have said that they'll continue to do so if she returns home. It says so much about their fear with regard to the power of women, no? Donate $10 to Malala Fund by texting Malala to 50555. 
2. Kaitlin Roig-Debellis's Bravery
This Connecticut teacher piled her entire class into the classroom's tiny bathroom stall and took care to make sure the children knew they were loved when a gunman was tearing through Sandy Hook Elementary School last December. I admit that a blonde, married Connecticut-based elementary school teacher in her 20s is pretty much the antithesis of my definition of bravery. But her thinking on her feet saved 15 lives and the entire audience stood up to applaud her as the mothers of some of her 2012 class presented her with her well deserved award.

3. Gabby Gifford's Courage 
She and her husband, astronaut Mark Kelly received a joint award. The US representative was shot in the head while meeting with voters in a supermarket parking lot. Mark's sharing that the power couple's first date venue was the Arizona state prison touched my cold, dead heart. Giffords work on launching a gun safety organization (Americans For Responsible Solutions) is phenomenal. 



4. Lady Gaga's Kindness 
I admit that I'm not the biggest Gaga fan. I love her music. I think she's incredibly talented. She's incredibly original in so many ways, but she's unoriginal in just as many–and she never gives credit. That said, her kindness was evident last night to anyone with eyes. She embraced the children of PS 22 who sang a blend of two of her songs on stage last night and then encouraged them to keep up with their singing and cultivate their talents. She was incredibly sincere and there was no reason for her to use her short time on stage this way. She added that despite her gargantuan fame, "my true talent is not the clothes, and not the music. I really feel that what I am best at is seeing the potential in other people." She also referenced her campaign against bullying and mentioned the case of a young fan who committed suicide in 2011 after being bullied, Jamey Rodemeyer. "Do you really know how your child feels when they are home at night?" the pop star challenged the crowd. "If I could forfeit my Glamour cover, I'd give it to Malala," she admitted. 



5. Barbra Streisand's Commitment To Women's Heart Disease Research
Because… Barbra. When my mom called to ask how the event was after I got home last night, all I said was "Barbra." And she gasped.

And now, I want to hear from you. Did you read the November issue of Glamour yet? If not, I implore you to learn more about these 12 fantastic women. Tell me your thoughts on this year's winners in the comments. 

Like this post? Don't miss another one! Subscribe via my RSS feed.