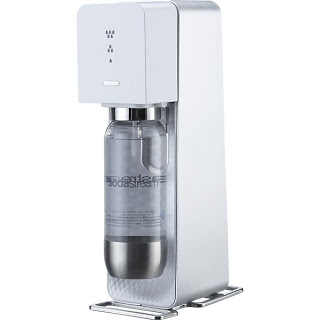 Barry Katz (my dad) is a very smart man who can educate the masses on everything from international soccer to ancient Rome to wine. He's designed software that goes into security systems and card-access installations for such clients as Bloomingdales, Columbia and Shop Rite. But my favorite thing he's created is a life-changing use for the Soda Stream he and my mother own at their abode in suburban Philadelphia–SPARKLING WINE. Here's how he says to do it. 
1. Get a dry white, like a Pinot Grigio, and pour it into the Soda Stream Bottle a bit lower than the usual water fill line. Children, we don't have time for your usual seltzer reindeer games. 
2. VERY slowly, operate the machine to infuse bubbles into the wine. It'll bubble up much more quickly than water (as you'd imagine, like Champagne), so stop and start a few times. 
3. Screw on the lid, chill it for an hour and then pour into a stem. Don't forget not to call it Champagne. It's not.
As the house drink at BBJ HQ is Kir Royales, this is a veritable GODSEND. Because even if I don't have bubbly on-hand, I have bubbly on-hand. Is Chateau Soda Stream a libation you'll be serving?
The Soda Stream Soda Maker is on sale for $130 at
Crate And Barrel
.
Like this post? Don't miss another one!
Subscribe
via my RSS feed.