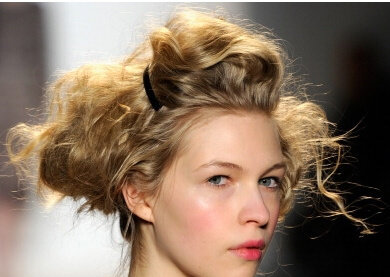 It's a Hansel and Gretel hairstyle backstage at Lela Rose. Ted Gibson's Devin Toth keyed this ethereal, deconstructed effect. Here's how to get the look, per Devin.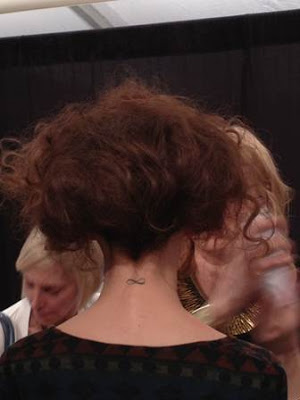 "Lela expressed to Ted and me that her collection was inspired by fairytales such as Brothers Grimm and Hansel and Gretel.  She wanted mythical, magical hair to be walking down the runways, so not only did we create a fairytale finish but we also kept the actual process of creating the hairstyle sort of fanciful and magical as well.
We started by prepping the hair with Build It blow drying agent at the roots for volume and gave the models a quick round brush blowout.  Next we took large sections of hair and tightly wrapped them in figure 8s around rods made from tin foil.
Next we flat-ironed each rod.  The metal conducts the heat and it sets the hair into a beautiful imperfect ethereal wave.  We sprayed the setting hair with Beautiful Hold hairspray for hold.
Then we took out the set, back combed the hair and gently pull it back with our fingers into a twist above the nape of the neck.  We then tuck it up and secure it with bobby pins. 
To keep the fairytale hair grounded and ethereal we added a barrette to the top of the hairstyle and loosely pulled out a few pieces of hair in the front."

What do you think of this look, beauties? 

Like this post? Don't miss another one! Subscribe via my RSS feed.