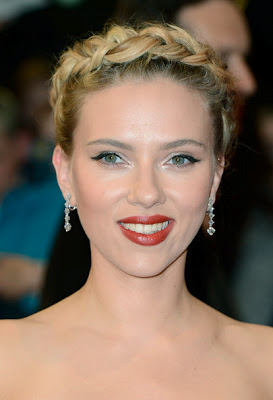 Makeup artist Emma Lovell created Scarlett Johansson's Old Hollywood glamorous look atht the premiere of The Avengers in the U.K. Read on for the deets.

Says Emma, "Scarlett showed me the Prada dress and we both instantly decided on a Hollywood lip . Combining this with a shaped eyebrow and a flick of eyeliner is one of my favourite make up looks for its simple but powerful elegance . Her flawless skin was achieved with HourGlass immaculate liquid powder foundation in porcelain. Bobbie Brown eye brightener was used under the eye to keep it clean and youthful. I elongated and shaped Scarlett's eyebrows using Mac fling eyebrow pencil with individual feathery strokes. The colour is soft and perfect for fair skin . I just used foundation over the eyelid so focus was on the eyebrow and eyeliner.
To create the classic feline eye I used Hourglass calligraphy liquid eyeliner in ebony and individual false lashes from the center to the outer corner to exaggerate the look . I applied D&G Secret Eyes Black Mascara from root to tip but using only a little on the bottom lashes. I chose to use an unexpected burnt red , Dolce lipstick in Devil, and dabbed this on with finger tips but first lined the lips with D&G lipliner in Ultra . I warmed Scarlett's cheek with D&G Luminous cheek Color in Apricot and shaded underneath the cheekbone in MAC boneybeige."
What do you think of Scarlett Johansson's makeup?
Like this post? Don't miss another one!
Subscribe
via my RSS feed.