Sunnie Brook has partnered with Head & Shoulders as their resident mane maven. I had the opportunity to catch up with her and talk about how she got started in the hot world of hair, what to do about frizz in the upcoming summer months, how to create curls while you're snoozing (!) and an ingenious tip for getting rid of pumps in your pony. Check out the Q&A below.



Beauty Blogging Junkie: Tell me a little about your background!
Sunnie Brook: I grew up painting and studying art, which eventually led to me working with Lancome makeup while going through cosmetology school to get my license to be a hairdresser. In 2005, after a year's training in the UK under the leadership of Toni & Guy International Artistic Director Craig Mason, I moved back to my hometown San Luis Obispo, California and opened my own salon. Over the next 4 years I worked as a National Educator teaching color, cutting, and styling with some of the best hairdressers in the world including Lucie Doughty, Robert Cromeans, and Takashi Kitamura.
After winning a national photo shoot competition in 2008, I moved to Los Angeles, to pursue my passion for editorial, print, and commercial work. I've enjoyed the opportunity to work with distinguished directors and photographers such as Jonas Akerlund, Alberto Tolot, Francesco Carrozzini, Nigel Barker and Steven Lippman and see my work featured in LUCKY, SELF, ALLURE, ELLE and GLAMOUR. I've also worked with celebrities and musicians including Chris Hemsworth, Abigail Spencer, Chris Pine, Lauren Graham, Hailee Steinfeld, Chris Pontius, Usher, Mumford & Sons, Red Hot Chili Peppers and Weezer. In 2011 I started my beauty blog – Sunniebrook.com/blog which focuses on sharing tips, tricks and how to videos for a lifestyle of beauty. I am currently the celebrity stylist for Head & Shoulders.
BBJ: What can we do to look unfrizzy and fabulous in the summer months?
SB: The warmer weather can do the three terrible D's to your hair = dehydrate, damage, dull. The best way to fight this is to take charge each day and it starts in the shower with you shampoo and conditioner. I recommend Head & Shoulders Dry Scalp Care because it will hydrate you scalp and hair, protect you color, and keep the surface of your hair clean from any buildup – it's also perfect for all hair types.
BBJ: Can you recommend any time-saving tips for hot weather? 
SB:  With all the beautiful weather, who wants to spend time in side, doing hair? Save time in the morning and learn how to play up or celebrate you natural texture. Do this by applying a light-to-medium serum to control frizz and give your hair extra shine. Then hands off and enjoy the weather! Just let your texture air dry . If you have a more wild texture, try pulling your hair back into a loose bun to control your curls. At the end of the day take your hair out for a sexy loose natural wave!


BBJ: What ingredients should those with dandruff be on the lookout for?
SB: The key ingredient to look out for is ZPT(zinc pyrithione), which helps to maintain and enhance scalp protection. I often recommend Head & Shoulders to my clients, especially those that suffer from scalp issues, because there's no cosmetic trade off – it effectively treats dandruff and scalp issues with no sacrifice to your hair. In fact, what most people don't realize is by taking better care of your scalp your hair actually looks better.
BBJ: Can you recommend any mid-day touch up ideas for flaky scalps? 
Here are a couple of ideas:
– Create a zigzag part, which is more likely to "disguise" the scalp area instead of a straight part. You can also switch your part to a different side or middle to hide the area.
– Wear a scarf or wide headband
– Apply products only to the midshaft and ends of the hair to keep the scalp as clean as possible, so ZPT can work all day
– Wear a top knot or messy bun pulled up loosely
– If your dandruff is near the front of your scalp, cut bangs or try doing a wreath braid pulled apart to camouflage any flakes
– H&S celebrity dermatologist Dr. Ilyse Lefkowicz also recommends using shower comb to make sure you're getting the product to the scalp – especially with the Head & Shoulders conditioner. Brushing also helps dislodge some flakes, but be gentle because you don't want to aggravate an already inflamed scalp!
BBJ: Do you recommend cleansing and repeating for H&S users?
Definitely! I recommend washing every day and twice a day for all of my clients if they're working out, have a physical job or just thick/curly hair.
BBJ: Do you recommend squeezing water out of hair before applying conditioner?
I recommend gently squeezing or blotting hair before applying conditioner. Your hair is absorbent, especially if it is dry and damaged. By removing the water from your hair before conditioning you're helping the conditioner to get in to every nook and cranny of your hair, which can be much more effective.
BBJ: What are your top hair tips you've gleaned in your career?
– Own Your Texture: Learn how to work with your natural texture, taking into account your lifestyle and environment so that you celebrate your own personal beauty. Then you'll know what products and tools suit you. Also, because of your understanding of your own texture, when trends come along you'll know how to interpret them into your own personal style.
– Lock in your Look: When using heat tools like a blow dryer, curling iron or hot rollers always let you hair cool down before brushing it out to insure your style lasts all day long. When hair is heated it expands and then contracts as it cools down, locking in the style you have created.
– Be Fearless: Hair is not a tattoo, so be free and try a new style like you would an outfit. Your hair is one of women's' greatest assets and can take an ordinary outfit into a head turning look.
– Bump Free Ponytail: This is one of my favorite tricks. Pull hair back using a denman brush into a ponytail. Then, near the bumpy areas, weave a chopstick or pencil in and out of hair and run back over bump. This will push it down onto the scalp and slightly lift the hair on top, hiding any bumps! Check out a video for how to do this on my blog here.
BBJ: What's your most unexpected hair tip?
– One of my favorites is my "curls while you sleep" video – check it out here!
– Add texture and volume by putting your hair up into a loose messy bun on top of your head when taking a shower. Once finished blow dry on COOL to remove any dampness. Get dressed and then take hair down. Give it some hairspray and ta da instant volume and texture!
– Disguised volume: If you want to create the illusion of more volume in your hair without adding extra pieces/extensions, use a tiny crimping iron. Section out a 1 inch section of hair around the perimeter of your head – clip this out of your way. Then take a circular section on the top of your head and clip that away also. Taking 1/2 inch sections on the remaining hair, crimp just the roots (about 1/2 to 1 inch of hair depending on your length and desired fullness). Once you've completed crimping, unclip the other sections of hair to hide your crimped texture. This will give the illusion of back combed hair without all the effort AND it will stay all day!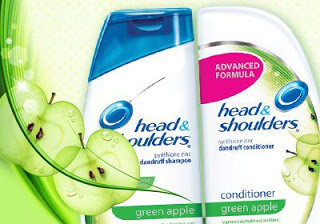 BBJ: What are some of your favorite hair products?
– Head & Shoulders Green Apple Shampoo and Conditioner: I'm loving this for Spring! The fragrance just smells like Springtime fun and jolly ranchers! It also keeps my clients' hair and scalp healthy – the perfect balance for all hair looks!
– Bumble and Bumble Prep: Lighter than water, it will break up any product to give you the option to start your style over without hitting the shower! It also acts as a "primer" to prepare your hair for styling products so there is an even distribution on your hair, ensuring your style lasts all day!
– Bumble and Bumble Surf Spray: This is great for both women and men! Just spray and air dry for beautiful texture and volume. Blow out and have a style that lasts for days!
– Oribe: This is a superfine, strong hairspray that locks in a hair style but still leaves hair touchable and soft.
– Leonor Greyl, Lait Luminescence: This leave-in-conditioner fights frizz and protects hair during the blow dry process – it also provides UVA/UVB protection.
Thanks, Sunnie! Don't forget to check out her blog for more hair tips.
Disclosure: Product and compensation were provided by Head & Shoulders for this post, but all opinions herein are my own.
Like this post? Don't miss another one!
Subscribe
via my RSS feed.