After a long, brutal winter a gal starts dreaming of tropical vacas and most definitely of the lush gardens of Kauai. While it's not in the cards for me to jaunt off there at this point, I've been taking mini olfactory trips there every time I wash my hands. Working at home means using my home hand soap ALL the time, so I find I get bored and switch it up fairly often and my latest score is so divine, I've been SMELLING MY HANDS Mary Catherine Gallagher style every time afterwards. Read on….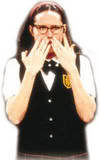 It's Malie Organics Liquid Hand Soap in Plumeria, $30 at malieorganics.com. This tropical floral manages to capture the essence of sunshine in a manner that transports me straight to the sands of Hawaii. And the adorably decorated bottle boasts bright pink flowers in a hue you just don't see in nature on the mainland. It is truly a scent SUPERSTAR.
Like this post? Don't miss another one!
Subscribe
via my RSS feed.