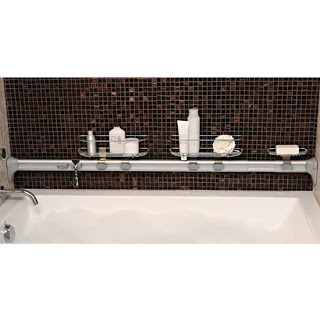 As you can imagine, my shower ALONE looks like a true-life set of "Hoarders." There are no fewer than 3 shower gels, 4 separate shampoo/conditioner/masque combos, about 6 razors and at least 2 soaps at any given time. And that's not even counting the extra shine treatments, hair exfoliants, sugar scrubs, in-shower lotions and other fakakta paraphernalia I pretend is necessary and part of "my work," but really is there because I'm… insane.  Read on…

So my three-tier shower caddy in ADDITION to the one I have hanging from the shower head was nowhere near enough and the caddy had to be perfectly balanced with heavier beauty product "linchpins" in specific places, lest it tumble and maul me with items in the shower (happened weekly) AND the bottom was starting to rust. It wasn't cute. I needed a solution and decided to invest in the $100 SimpleHuman Adjustable Horizontal Tension Caddy. And it's changed my LIFE. It mounts onto these little holders you put on the walls using silicone glue (I had to invest in more, the package doesn't include enough to hold the caddy, unfortunately) and keeps all your shower essentials in a non-rusting horizontal shelf onto which you lock in steel baskets. It's everything.
Buy it at amazon.com. And tell me: What are you using to hold your products in your shower?
Like this post? Don't miss another one!
Subscribe
via my RSS feed.