This weekend, I took a little jaunt to Vegas courtesy of generous Wen Hair Care and founder Chaz Dean for… THE MISS AMERICA pageant. As my gal Bryce Gruber pointed out whilst we were sitting at the mane (that's not a typo and you KNOW it) event, it was one of "those moments where you take stock and know your entire life is leading up to this." Read on for the scoop on the Miss America pageant, hair care tips from Chaz Dean and a video tour of my room at The Cosmopolitan hotel in Las Vegas.

Full disclosure: I LOVE A PAGEANT. I love pageantry. The only thing stopping me from being a completely cliched pink-clad world peace-bemoaning contestant (at least in my teen years) was my famously geeky brother who controlled in a most 1984 way EVERYTHING we watched on TV. He gave new MEANING to the words Big Brother. But unlike Big Brother in the book, he wasn't necessarily watching me, he was hell-bent on watching… whatever he wanted. And that included Star Trek: The Next Generation, Quantum Leap and Transformers. Being five years my senior, he behaved as though he were still an only child from a sharing-the-TV standpoint. And as a result, I had to wait until he left for college in New Hampshire before I could watch pageants to my heart's content. Sigh.
But being there! What an incredible experience. I kept an eye out for saran wrap glazing the gals' bottoms during the swimsuit competition (holy airbrushed abs, Batman), Vaseline-adorned teeth, Preparation H-smothered undereye areas.When Miss Wisconsin emerged the victor, her father/brother/uncle (we're not sure which) sitting nearby had a stage 5 FREAKOUT, which was really sweet. Cat, Bryce and I were rooting for Miss Oklahoma, who wowed the crowd with her Irish step dance and sweet demeanor.
The biggest surprise was when the co-hosts announced that the contestants would vote for one finalist to remain in the competition and all the non-finalists had to line up behind the girl of their choice.Um–gym class from Hell! And AWKWARD. Like THAT competition needs to be more catty.
Anywho, in addition to undergoing a hair and makeup makeover courtesy of Wen (an official sponsor of Miss America), we had the opportunity to test-drive the famed Wen Cleansing Cream in its full glory. I was genuinely impressed, friends. I have to admit, cleansing my fine hair with a conditioner has always seemed counter-intuitive–other than when I rock my curls. Chaz (a total doll, by the way, as is his sister, who accompanied him on the trip) INSISTED that it would give my hair incredible volume and moisture. Did it ever–my hair was so hydrated, it held a curl for DAYS imparted simply with a round bristle brush and a blow-dryer–no curling iron necessary.  16 pumps evenly distributed throughout my hair per Chaz's suggestion was all I needed to remove dirt, oil and product build-up. My blow-out even lasted longer than usual. Chaz also shared this tip: NEVER use a plastic or ceramic brush as it will damage your hair. "You know when you touch a ceramic brush to your skin after using it to blow-dry and it burns you? That's what it's doing to your hair." You're much better off, he advises, with a nylon/bristle round brush combo. The nylon will keep your hair from tangling while polishing it to a Miss America shine, thanks to the bristles.
The girls at Chandelier Bar in The Cosmpolitan–note my tiara;
rocked it 30 hours of the 48-hour trip.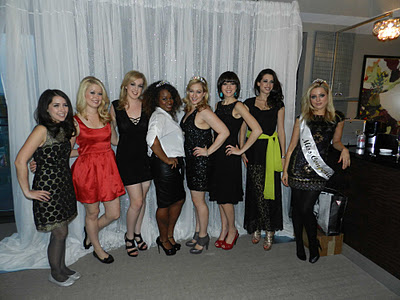 Our glam crew post makeover in the Wen suite!
We stayed at the newest Las Vegas haunt, The Cosmopolitan, which was absolutely luxe and beautifully decorated. Seriously–the details were straight up Simon Doonan levels of aesthetically pleasing–even the wallpaper in the closet was divine. There were umpteen delectable restaurants "on campus" like Milos (delish Greek) and STK (lobster to DIE) and even one of my favorite retail havens, All Saints. Cat and I made it a point to stop in there and pick up sequined dresses to wear to the pageant. Somehow, one can't be in Vegas for more than 24 hours without rocking sequins. It's a proven fact.
Here's a video tour of my room at The Cosmopolitan in Vegas. Please note, the rooms boast C.O. Bigelow amenities, not Wen products–those were provided for us courtesy of Wen.
Throwing dollars in slot machines, great company, epic foods and toasting to world peace–all in all, it was a fantastic experience. Thanks to Wen for sponsoring an incredible trip! Check it out for yourself at notshampoo.com.
Like this post? Don't miss another one! Subscribe via my RSS feed.