Board Game-Inspired Beauty Week is a theme week is about by my favorite board games and a corresponding product inspired by each. The Hasbro-hued world of fun should have more to do with beauty than it does currently, n'est-ce pas? I plan to change all that. An entire week of boardgame posts. Am I the biggest loser or WHAT?
My family knows: If we're playing Monopoly I have to be the iron. And if someone else things they're buying MarvinGardens, I'll stop playing. I take Marvin Gardens VERY seriously. VERY. Why Marvin Gardens? Well, first of all, it's yellow and that was (and still is) my favorite color. Second, I think naming a property Marvin anything is just plum hilar. A friend of mine from high school, Jackie, had a house down the shore in Margate, New Jersey, which is quite close to Atlantic City ( the locations off of which Monopoly was based are all in the AC area).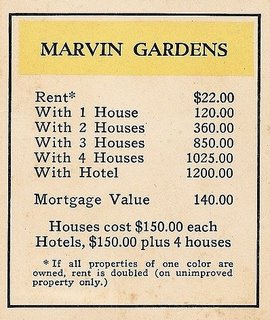 Anywho, we naturally were BFF with the local cute surfer boys who lived in Margate year-round. One of these boys, Brian, actually lived in—get this—THE REAL MARVIN GARDENS housing area. I was obviously obsessed with this and insisted we visit him there every single weekend. BT dubs, Marvin Gardens is actually a misspelling. It's actually Marven gardens, as it's the area between Margate and Ventnor. Let's get to the Monopoly-inspired beauty product, shall we?
Oribe 24K Gold Pomade boasts a golden hue obv more sparkly and rich than that of the Marvin Gardens title deed. But in my mind, this 24-karat-infused pomade's value is analogous to that of Marvin Gardens' Monopoly property status in relation to other shine products in my arsenal. It adds a bit of glamour your in-need-of-some-summer-sun strands.
My fave part? The directions: Smooth onto wet or dry hair. Add string bikini and dark glasses. Amaze. It makes my new fall hair hue look like a million bucks. Oribe surely has the monopoly on precious metal-infused hair products. See what I did there? I KNOW. It's like… I can't even CONTROL it.
Oribe 24K Gold Pomade is a worth-it splurge at $49. It's sold at oribe.com.
Like this post? Don't miss another one!
Subscribe
via my RSS feed.