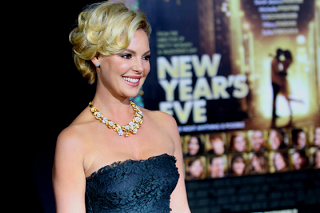 Katherine Heigl looks luminous at the New Year's Eve premiere, though the movie itself certainly left something to be desired (like a plot and acting). As Carol always says, "the more stars in a movie, the worse it is." But back to Katherine–her makeup is amazing and here's how to get the look, straight from celebrity makeup artist Isaac Meyers.

Brows
Too Faced Smoky Eye Shadow Collection (SRP $35)
Skin
"To prime the skin, I applied a thin layer of Dr, LeWinn by Kinerase Skin Tone Perfecting Serum (SRP $29) all over her face and neck. For foundation, I used a mixture of Koh Gen Do Maifanshi Moisture Foundation in 012 and 013 (SRP $62). I mixed evenly then evenly and softened with a sponge."
Powder
"I used Koh Gen Do Maifanshi Pressed Powder for Professionals (SRP $63), which I blotted on her entire face and neck three times."
Eye Shadow
"I mixed the 'Day Smoke' and 'Fashion Smoke' colors from the Too Faced Smoky Eye Shadow Collection (SRP $35) for her eye shadow. I started with the lighter 'Day Smoke' shade and used that as a base color and took it all the way up to her brow bone. Then I used the darker 'Fashion Shade' in the crease and contoured and blended very softly."
Mascara
"Lash Injection Pinpoint Extreme Defining & Lengthening Mascara in Hot Chocolate (SRP $21)
Bronzer
"I contoured her entire face and neck with Too Faced Chocolate Soleil Matte Bronzing Powder (SRP $29)."
Lipstick
"I used Koh Gen Do Maifanshi Lipstick in BE02."
Lip Gloss
Too Faced Glamour Gloss Volumizing Lip Gloss in Flirt (SRP $19)
Hair
"I finished her hair with ColourCollection™ Elastics in Blonde and ColourCollection™ Mini Claw Clips in Blonde from the Goody ColourCollection™ (SRP $2.99 to $5.49) to hold up the waves I put in her hair."
Like this post? Don't miss another one!
Subscribe
via my RSS feed.