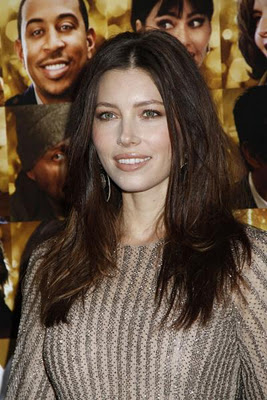 Guys, I'm going to a screening of "New Year's Eve" tonight and I'm kind of excited for what's sure to be an opus of cinematic horrendousness (judging from the train wreck that was "Valentine's Day"). I have high hopes for the glamour factor, however, as everyone who's anyone is in the flick. Like Jessica Biel, who looked quite lovely at the "New Year's Eve" premiere last night in New York City. Celebrity hairstylist Oscar Blandi created Jessica Biel's sleek, textured waves for the event. Here's the scoop straight from Oscar on how to get the look.

The look? Tasseled Straight.
Step 1: Prep the hair with Oscar Blandi Hair Lift ($28 at Sephora.com) to create a thick strong foundation for your style
Step 2: Smooth and straighten your hair with an extra large round brush
Step 3: Spray Pronto Invisible Dry Shampoo Spray ($23 at Sephora.com) throughout the root area and the ends for a tasseled – then massage the roots thoroughly to create lift and movement.
Step 4: Finish with Lacca Hairspray ($23 at Sephora.com) to lock in the style
Simple, yet effective. What do you think of Jessica Biel's look at the "New Year's Eve" premiere? And will you see it in-theater, or wait to see it "in bed," as my friend Hy says? SHARE HOROWITZ. Go.
Like this post? Don't miss another one!
Subscribe
via my RSS feed.