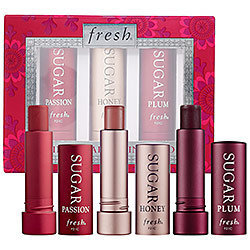 I've talked about Fresh Sugar Tinted Lip Treatments so much both on this blog and in person, I've deeply considered starting a fuckyeahfreshtintedliptreatments Tumblr. I may or may not have accosted Fresh founders Alina and Lev when they made the grave mistake of admitting the 2012 treatment-to-be-named has been in the process of being formulated this summer. And naturally, I had (still have) to know what it IS.
The mystery continues, but in the meantime, do someone on your gift giving list a favor and introduce them to the wonder that is Fresh Tinted Lip Treatments with the Fresh Kiss Me holiday trio. These balms are hydrating and impart a hint of color (in sheer red, caramel and plum) for a naturally polished look. I've repurchased all three of these shades time and time again; this gift could only be more spectac if it included my all-time fave Rose, as well. If it's not your giftee's Obfreshion yet, rest assured you'll get the call that it is shortly.
The Fresh Kiss Me holiday trio retails for a totally wallet-friendly $28 at sephora.com.
Like this post? Don't miss another one!
Subscribe
via my RSS feed.