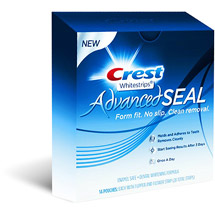 Sundance is so last week, but I neglected to tell you about how much coffee and red wine I consumed during my sojourn in Park City, Utah. It snowed every day I was there (tons of snow). So naturally, when faced with inimical climes and more time than I'm used to to indulge in first-hand celebrity gossip, I consumed far more red wine and lattes. Couple this with my addiction to my new favorite toothpaste, Tom's of Maine Wicked Fresh! Toothpaste in Cool Peppermint, which I adore, but alas doesn't whiten, and I'm looking at a much duller smile than I'm used to. I'm usually quite stringent about whitening on a regular and sticking to a whitening toothpaste, but my schedule hasn't allowed for such "luxuries" lately and frankly, it's showing.
Enter Crest Advanced Whitestrips ($34) which were included in a fabulous bag of goodies that Walmart sent me to test out. The new Whitening Strip iterations are lightyears from the days of slapping a plastic, gloopy strip on your teeth and waiting an hour for it to do its thing, then repeating for 30 days. These adhere to teeth snugly and are comprised of a serious plastic, so you can do your laundry, talk on the phone and only sound slightly mentally deranged, and best of all–they remove cleanly. They claim on the box that you'll see results in three days; I saw results after only ONE 30-minute sesh. They deliver, much in the manner of Cliff from Cheers. My teeth look much brighter and whiter only a few days into the process and while they are a bit more sensitive (temporarily, ladies–the sensitivity wears off once you're done with the whole 14-day process), the difference is visible. Immediately.
Some of my other goodies from the Walmart bag of delight include:
Olay Regenerist Micro Sculpting Cream with Amino Peptides

Pantene Pro-V Moisture Renewal Shampoo for Damaged Hair

Secret Clinical Strength Deodorant
I've tried a ton of whitening agents and most do little, if anything. These Crest Advanced Seal Whitestrips are my new faves. What's your favorite way to whiten? Tell me in the comments. Go.
P.S. WHO'S PSYCHED FOR THE FINAL SEASON PREMIERE OF LOST? Stay tuned for my LOST post tomorrow.
Like this post? Don't miss another one!
Subscribe
via my RSS feed.