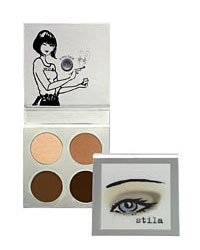 I'm blown away by this one, dolls! The ever-innovative
Stila
has taken smoky eye demystification to the next level by creating a
smoky eye palette
(a gorge one at that! – $40) which
TALKS YOU THROUGH
the entire process to ensure you'll smolder when you make your cameo at your final destination.
How does it work? Just push the button and the palette talks you through 5 easy steps to the perfect smoky eye. It's complete with artistry tips and what brushes to use – all in under a minute.
The Bronzes palette includes four shades:
A new pink champagne shimmer shade (the base)
Summer- a golden bronze shimmer (for the lid)
A new rich warm brown (contour shade)
Java, a deep matte brown (a liner)
Patent pending on this product. Bravo, Stila!
LIMITED TIME OFFER: Get FREE Shipping on any order that includes a Smoky Eye Palette! Just enter coupon code GOODEYES during checkout.