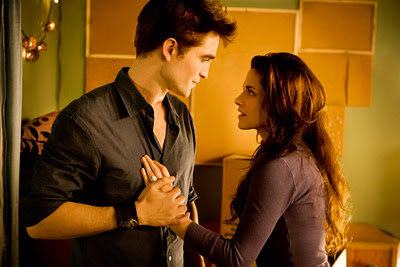 The Twilight Saga: Breaking Dawn hairstylist Bonnie Clevering spoke to Canadian Hairdresser Magazine about creating Bella Swan's hairstyles for the movie. Also, makeup artist Stacey Panepinto discussed how she created Bella's natural look. Read on for details…

Hair
"The inspiration was simple" says Bonnie. "I had to remain consistent with Bella's previous looks which was soft and casual." The foundation for Kristen's haircut was layered around the face at a chin length, while the back was longer with layers. To maintain her hair color, Bonnie would use a color enhancement to give vibrancy and tone to her hair for film. This all might sound simple but filming scenes in Baton Rouge, Vancouver and the US Virgin Islands played havoc on Kristen's fine, silky hair.
Even though her hair was dense, Bonnie had to maintain Bella's look for 12-15 hour days of filming. To achieve her look through various scenes and weather, each morning after shampooing, she would apply conditioner to only the shaft area. For lift and volume, Bonnie would apply IT&LY HAIRFASHIONS Pure Style Mouse (Strong) to the root area to serve as a root lifter while using a light gel to the shaft. It was important to use products that would prevent her natural oils from weighing down the hair. Next, Bonnie would blow dry her hair using a small mixed bristle brush at the root area for added lift and switching to a medium round brush to finish the shaft area. After blow drying, she would use a jumbo curling iron, running it through the shaft area just to heat up each section and then switch to a 3/4″ iron to create a blend. To finish, she would use a light hairspray like Sebastian Shaper. According to Bonnie, "The greatest challenge was the various weather conditions. I needed products that would allow me to comb the hair out and re-blow dry the hair without any track or pulling of the hair."
Makeup
"Bella's look has been very natural in the movies and we wanted to keep that for Breaking Dawn," said makeup artist Stacey Panepinto. To achieve the look she used very natural colours like browns and peach tones to enhance Kristen's eyes and a sheer colour to pull out the natural colours in Kristen's lips.
I will, of course, be examining the two artists' handiwork at midnight at the theater on November 17th. OBV.
[Source]
Like this post? Don't miss another one!
Subscribe
via my RSS feed.