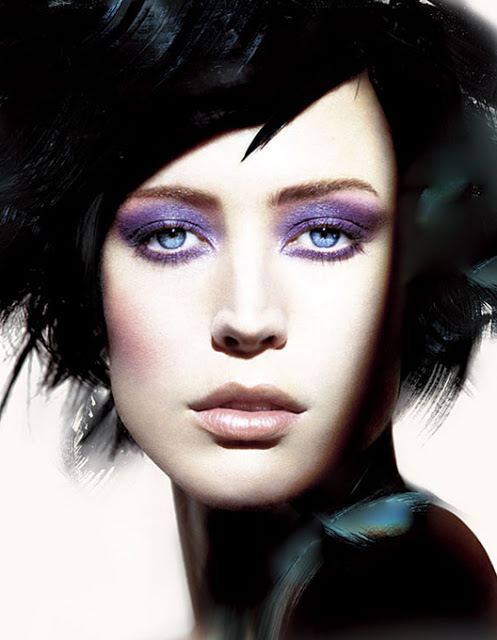 Shiseido's fall shadows are so freaking SICK this year. Created by the ever-so-mage Dick Page and inspired by his experiences traveling around the globe, the collection boasts my favorite combo of rich shades I can remember in a single grouping. No need to apply an eye shadow base or powder shadow on top as the Shimmering Cream Eye Color delivers strong color definition with glorious luster and lasting brilliance.  Read on for more photos and info after the jump.

These lightweight, long-wearing cream shadows maintain a smudge-free and dewy finish that won't crease or fade for up to 16 hours. Each shade can be worn separately or blended together for a variety of looks and effects.
The shadows include a combination of unique technologies including:
Jewel Reflecting Powder
A shimmering powder that reflects different colors from every angle, emitting an intense radiance.
Smooth Fit Base
Uses Shiseido's exclusive patent-pending emulsification technology to quickly remove excess oil and water after application, leaving only the essential reflective pearl and moisturizing ingredients behind on lids. This exceptional adhering quality is what gives the shadow its strong resistance to creasing and fading.
Super Hydro-Wrap Vitalizing DE
A Shiseido-original ingredient that moisturizes and improves dryness to give eyes a fresh look all day long.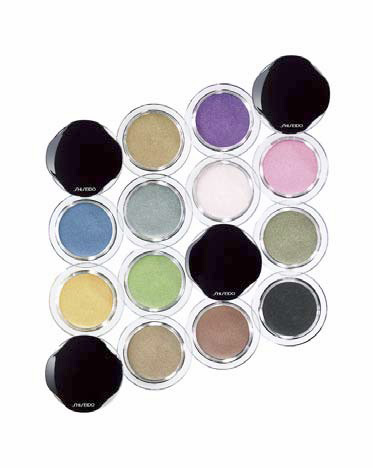 The shades include:
Mist (WT901) Soft pearly white–my FAVORITE, I've been rocking it in inner corners, all over my eye real estate, EVERYWHERE
Magnolia (PK302) Fresh bright pink
Techno Gold (GD803) Brilliant yellow gold
Meadow (BE204) Warm, glowing beige
Purple Dawn (VI305) Intense violet
Leather (BR306) Rich, reddish brown
Patina (GR707) Lustrous metallic bronze
Moss (GR708) Vibrant bright green
Sable (BR709) Luxurious taupe
Tin (SV810) Rich silver
Angel 9BL711) Deep, teal-toned blue
Caviar (BK912) Glossy, shimmering black
Lastly, this foundation brush, which is part of the collection is so fantastic at blending away blemishes and imperfections thanks to its flat-top that reminds me of one Mr. Kid 'n Play. Its stippling effect distributes both foundation and concealer so perfectly, I'm tempted to throw it a House Party.
The Shiseido fall 2011 collection is available now at all Shiseido counters, online at macys.com, bloomingdales.com, nordstrom.com, saks.com, sephora.com.
Be warned: Donning the Shiseido fall collection may inspire a dance-off.
And let's just own it, shall we? We BOTH can still do this dance.
Like this post? Don't miss another one! Subscribe via my RSS feed.