It's hard not to think of the Saturday Night Live Cougar Den skit with the hilarious Kristen Wiig (as Toni Ward) every time I see the green label emblazoned with the word "Cougar" on my new boots.
My favorite part is when Toni Ward says, "Well, you don't have tell me about IDs. Last year, I met a striking, young Puerto Rican man at a McDonald's play place. After I bought him an Oreo McFlurry, he told me he was 21 and I took him home. Three weeks later, I found out he was 12 and a half." HILARIOUS.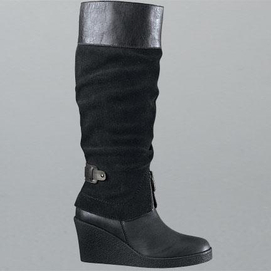 But back to the germane Jackson topic at hand, my Cougar Mirage Boots are my new closet MVP.  And lucky me, I've had the opportunity to LIVE in them in the past week thanks to the flash BLIZZARD we had on Saturday during Hallowinter. They're waterproof enough that you can rock them instead of your wellies yet warm enough to keep your tootsies toasty during a noreaster, thanks to a polar plush lining. AND they're much cuter than your garden variety bad-weather footwear with their 3″ wedge heel and suede/leather combo. I wish I had a TIME MACHINE so I could have worn them when I was at the Sundance Film Festival this past January. This is no serviceable boot, ladies. This is a boot with SASS. In short? Get involved.
Cougar Mirage Boots retail for $250 at cougarboots.com.
Disclosure: A sample of the boots was provided for editorial consideration.
Like this post? Don't miss another one! Subscribe via my RSS feed.