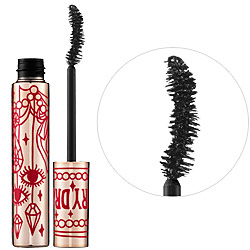 Official Mascara Correspondent Ashleigh Ciucci lengthens her lashes this week with Fairydrops Scandal Queen Mascara ($24), a beautifully packaged formula with a curved brush. Do you love the brand name or DO YOU LOVE THE BRAND NAME? How does she fare? Read on and find out.
I have a bit of a fetish for all-things Japanese, so I was super excited to try this curling mascara. Scandal Queen was created by Japanese TV star Aya Yasuda; a lot of Asian women battle stick-straight lashes, so this one was developed to oomph curling power. From the outside, this mascara is packaged in a gold tube with cute pink designs.
 The brush lives up to it's packaging: it's curved with three round clusters of bristles. The formula is wet and tacky and the brush aids in soft separation and definition. With a second coat, there is lots of length but not as much volume. I will say that my lashes do look more lifted and curled than normal.
My afternoon touch-up was great, the layering of product created a wearable "spike" effect: great for a night out. While I had to use eye makeup remover at the end of the night, this mascara passed with flying colors. I would def recommend this one!
–Ashleigh Ciucci
Like this post? Don't miss another one! Subscribe via my RSS feed.