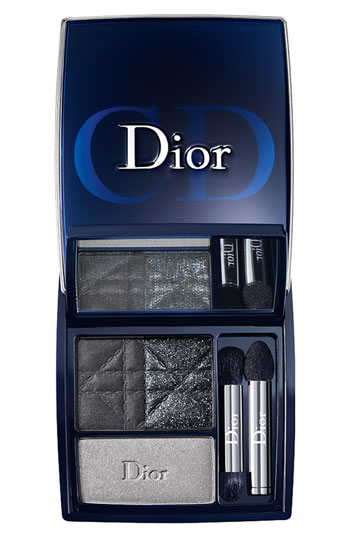 Fictionary is a column showcasing beauty-related words that don't exist, but should.
Bless Dior makeup artist Ricky Wilson because he manages to get the latest must-have palettes in my hands even when samples are few and far between. Last season, I scored a Dior 5-Colour All-in-one Artistry Palette in Amber Design, which you KNOW thrilled me. I love things with my name on them as a result of never being able to find my name on barrettes and various and sundry little girl things years ago. I remember the sadness of seeing the offerings jump right from Amanda to Amy. I've used Amber Design for evenings out all summer and NOW, I'm using the brand's latest eye-mazing Dior 3-Coleurs Smoky Eye Palette to create a dazzlingly dramatic and near-goth Deetzlightful eye concept.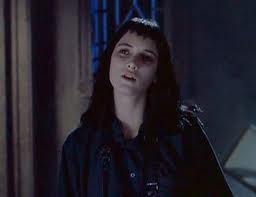 Deetzlightful is a shout-out to everyone's favorite "alone, utterly alone" urban teen, Lydia Deetz. Do we love how the palettes capture both the sultry duskiness of the film's macabre undertones while contrasting it with a sparkly glimmer, reminiscent of That Party Guest Who Showed Up In A Gold Lame Dress Who Remains Nameless in the movie's possession dinner party scene? Allow me to refresh your memory.
The Smoky Black palette (featured above) and Smoky Khaki are my faves. The packaging feels luxe and high tech. It "slides" open, kind of the way the Bonne Bell Flipsticks did of yesteryear. I've long been a believer that too many shades in a palette just ups the possibility of your only using a small percentage of them on a regular and that three is the magic number. All the shades are wearable either as a liner, all over wash or crease hue. Where them until the daylight come and [you] wan' go home–because they'll stay put looking perfectly applied until then. Best of all? You won't need a "bio-exorcist" to remove it–it'll come off easily with your fave remover. Pair with the new Diorshow 360 Mascara and your whole LIFESTYLE will be one big dark room–in a good way.
The Dior 3 Coleur Smoky Eye Palette retails for $48 at nordstrom.com.
Like this post? Don't miss another one! Subscribe via my RSS feed.