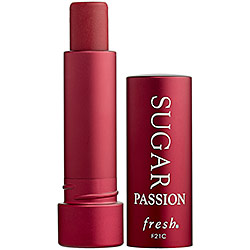 About a month ago, I was at a daytime pool party in the Hamptons at Diddy's Ciroc Club celebrating the launch of his new fragrance Empress, the face of whom is Kelly Rowland. Now, the fragrance is actually quite lovely, as is Kelly Rowland. First world problems, I know. Read on…

But all this fanciness (seriously–we were driven there in a limo bus) and know what I was focused on the whole day? My gal Marta Topran from Cosmopolitan's little jewel of a lip tint she pulled out mid-day from her purse. I nearly accosted her as she unveiled a BRAND NEW Fresh Sugar Lip Tint (I know one when I see one, even when it's dressed up in a new hue) that I'd never seen before. It turns out Marta had hit up a holiday preview for the brand for print editors that I was scheduled to attend the following week. You guys KNOW how I feel about a lip tint. I carry the Rose, Plum and Honey ON MY PERSON on a regular. It's near Scoliosis-inducing for me to keep all that in my purse all the time. But it's NECESSARY. And so when Marta busted a sheer Jello-red pout all quickly like ONLY a Fresh Lip Tint can achieve, I suddenly, bafflingly morphed into Will & Grace's Karen Walker and got all up in her face spewing things like Karen is in the video below until Marta spilled the dirt on where she got that sample and when. I was all, "Honey, what's this, what's happening, what's GOING ON HERE?" 
I found out when I attended the holiday preview that Fresh created this passion fruit infused balm that hydrates while it imparts the most gorgeous sheer scarlett stained pout. It tastes so divine and the color is a slightly more dressed up version of the Rose–perfect for the holiday season (or before, of course). I daresay its my favorite of the bunch–and you know I don't like to play faves with my Obfreshions.
Fresh Sugar Passion Lip Tint SPF 15 ($22.50) is sold exclusively at sephora.com.
Like this post? Don't miss another one! Subscribe via my RSS feed.