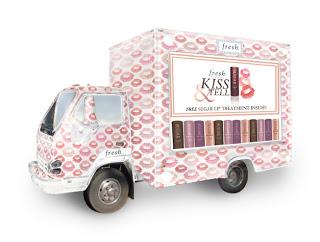 MAJOR NEWS. You will have a chance to get yourself a FREE Fresh Sugar Lip Treatment–something I've personally spent about $300 on the past few years restocking and testing new flavors.
Fresh's Kiss&  Tell Campaign celebrates the brand's cult favorite Sugar Lip Treatment Collection. On June 23 and 25, Fresh will host a pop-up truck in four locations around Manhattan. Inside the truck,  enjoy a Sugar Lip Experience and receive a FREE Sugar Lip Treatment of your choice, marking
the first time Fresh has ever given away a full-size lip treatment in these locations:
Thursday, June 23, 11am-3:30pm
(6th Ave btwn 41st and 42nd)
Thursday, June 23, 4pm-7:30pm
(Broadway, btwn 18th and 19th)
Saturday, June 25, 12pm – 3:30pm
Spring and Crosby
Saturday, June 25, 4pm – 7:30pm
(Bleecker and  W.11th)
Can't make it to the truck? Fresh has generously offered a digital postcard on Fresh.com that entitles recipients to a free Sugar Lip Treatment with any purchase of $50, so no matter where you are in
the country you can reap the benefits of the Kiss & Tell Campaign.
Enjoy!
Like this post? Don't miss another one! Subscribe via my RSS feed.