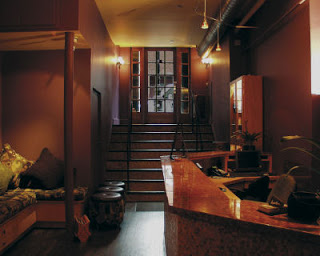 Lovies, lots of feelings are being felt by me for Apple (mostly AT&T, actually) and none of them are good. This weekend, I went with PurpleLab Creatrix Karen Robinovitz to help her purchase and set up her new iPhone at the AT&T store. Since my 4G has dropped every single call I've made in the last couple months, I also decided to get a 3G (essentially, I paid to downgrade–WTF, Apple/AT&T). Well, long story LONG, my 3G still totally drops my calls, perhaps just 10% less. So I'm about to have a rage blackout, in the words of the sage Felishe Sullivan, on AT&T in mere minutes on the phone. But one thing Apple-related that I AM loving? The marriage of the iPad (which is incapable of making or dropping calls as it's a tablet, essentially a large iPhone screen–which, hey, so is my iPhone as it does not seem to recognize THE IMPORTANCE OF THE INVENTION OF ONE MR. ALEXANDER GRAHAM BELL!) and the famed Haven pedicure. This new service is called the iPedi, and you will LURVE it.

Starting January 14, all pedi guests will have complimentary access to iPads during any pedicure service. You'll want to try their new Spiced Chai Pedicure and the Spiced Chai Body Treatment, as well.
The Spiced Chai Pedicure ($45 for 45 minutes) soothes the soles leaving skin smooth and nails polished. The seasonal service begins with a warm foot bath infused with exotic spices. Next, a seasoned nail technician uses a Spiced Chai sugar scrub to slough away winter woes and dry skin. A luxurious moisturizer is then applied, to replenish lost moisture, leaving winter worn skin softer and smoother. An added perk with this pedicure: complimentary Chai Tea Latte.
The new Spiced Chai Body Treatment ($95 for 45 minutes) is a delicious winter wrap begins with a warm goat milk mask infused with enticing spices. An exfoliating sugar scrub is then applied to rid the body of any flaky skin. A nourishing body cream tops off the treatment and works to leave skin smoother and softer.
Book your appointment (starting Friday, January 14) by calling 212-343-3515. Haven is located at 150 Mercer Street, New York, NY. Be sure to use Twitter hashtag #iPedi when you no doubt tweet from Haven.
Like this post? Don't miss another one! Subscribe via my RSS feed.