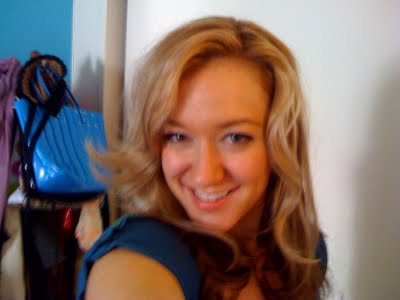 September on my head: summery highlights on top, warmer, deeper tones at the bottom. Just like the temp in September in NYC!
Check my autumnal princess highlights with Jason Backe at the Ted Gibson Salon! I took off-the-cuff vids with my Flip, so try not to get seasick as you watch the filmed-it-on-myself quality. I'm loving my return to deeper hues of blonde, though it was fun to spend the summer as a sunny bright beachy blonde.
The fantastic (and deeply handsome) Adam gave me this shiny, flippy blow-out. I highly suggest you sched a blow-out with him stat. Perhaps during the salon's Fashion's Night Out event?
Here are the deets:
To celebrate FASHION's NIGHT OUT on Thursday, September 10th, Ted Gibson (www.tedgibsonbeauty.com), the most expensive haircut in the country at $950 is offering a one-day-only 'Recessionista Thursday" special at the Fifth avenue salon! Anyone can come into the salon and the Ted Gibson team will offer haircuts, single color processing for $75 (originally $200) and blow-outs for only $40 (originally $90)! Ted's own celebrity fans – Debra Messing, Renee Zellweger, and Anne Hathaway, among other A-list celebrities, high-end designers and VIP/socialites will be celebrating fashion and New York City's biggest night to support the fashion industry. Get yourself an affordable 'do!
LMK what you think of my new highlights!
Part 1
Part 2
Part 3
My apologies to Jason for the crappy camera focus. I was literally holding my camera out in front of me, hoping to capture the two of us as best I could!
Like this post? Don't miss another one!
Subscribe
via my RSS feed.