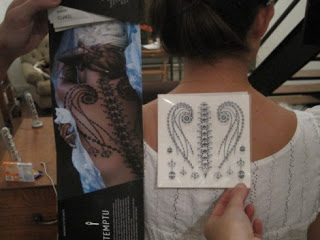 My pal Lilit over at TheGloss just tipped me off  about how a colleague of hers bought one of those back-covering House of Dereon temporary tattoos, only to find out that it was "about four inches long and couldn't even cover a doll's back." What a scam!
Totes reminds of that mo' of cinematic genius in Zoolander when Derek shakes the model of the school and cries, "What is this? A school for ants? It needs to be at least three times that size!" 
Perhaps House of Dereon should switch its name to House of Ants? Or perhaps House of Lies? What do we think?
[TheGloss]
Like this post? Don't miss another one! Subscribe via my RSS feed.