By Carol (My mother)
Sometimes it's not a good idea to leave well enough alone.  Let me explain.  I thought I was content with my usual beauty routine, namely serum, followed by moisturizer, followed by concealer where I needed it, etc. I had the drill down pat. 
Then I heard the BBJ's advice on Sirius Radio's Martha Stewart Living about making your own mix of moisturizer and foundation.  The concept of a tinted moisturizer was not unknown to me.  I had in fact tried Sonia Kashuk's brand and thought it had a pleasing texture with decent coverage, but, unfortunately for me, devoid of luminosity. 
I decided to make my own mix and I'm delighted to report that on the very first try, I hit it out of the park.  It didn't hurt that the products I happened to use turned out to be cunningly susceptible to a perfect blend. 
The moisturizer I chose was Philosphy's Miracle Worker, an anti-aging moisturizer that is making me into a believer. It has both the heft and the right viscosity to support the little pour of L'Oreal's True Match Super Blendable Makeup (with SPF 17 sunscreen) that I mixed together on my palm/palette. It was fun to apply and I was thrilled to realize that it gave much better coverage than I'd been accustomed to, plus the radiance that the L'Oreal imparted. Lavishly, I applied it all over my face and neck without experiencing the downside of too much foundation accentuating lines.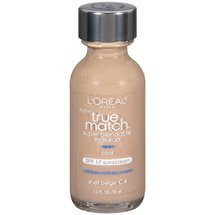 I had always thought that I had to make a trade-off–the "the less is more" axiom of aging.  But now I found I had a much more even tone to my complexion and my skin looked undeniably thicker and creamier. Hallelujah!
I must have had beginner's luck, because on my next attempt I didn't get the proportions quite right. Since then, I've been able to replicate the first experience with a fair amount of success.  If you try this, pay attention to the correct amount and ratio of each product (eyeball it, no need to measure) that will give the optimal results for you.  It does take some experimentation but I promise you that the results will be worth it. 
Somehow, the right blend of moisturizer and foundation seems to trump applying each separately.  Live and learn.
Like this post? Don't miss another one! Subscribe via my RSS feed.