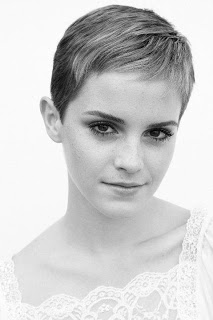 You know, my feelings about Emma Watson's drastic crop are akin to the way I felt about the totes controversh LOST finale. At first I was appalled, horrified and felt gypped–and then, after sleeping on it, I decided she's really pulling that 'do off. She's really wearing it and not letting it wear her, right?
It's a pretty fabulous Jean Seberg redux (in A Bout de Souffle, natch), in my unhumble O. Few gals can rock such a short coif with an air of utter femininity and yet, I find that our girl Emma is doing it and doing it and doing it well, to use the sage words of LL Cool J.
What do you think of her new 'do? Do you want to hit it in the worst way? Or are you NOT scheming on that ass since the first day?
Like this post? Don't miss another one! Subscribe via my RSS feed.