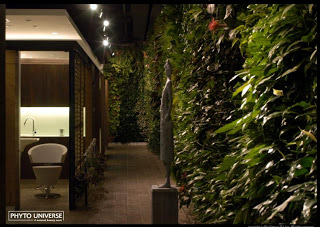 The words "urban sanctuary" are flung about the beauty world with the frequency of bad haircut war stories. But Phyto Universe is a different story indeed. There's simply no other way to describe this oasis. For starters? There's a live jungle crawling up the walls. It's ridic relaxing and zen in this paradise of pretty. I had the opportunity to enjoy an Express Hair Treatment ($120) at this paragon of botanical beauty. The treatment includes a hair and scalp analysis, hair treatment, scalp massage and blow-out.
My Phyto stylist Marina was fantastic. She started with the scalp analysis–she broke open an alcohol wipe, swabbed off the end of this shaver-looking device, and started digging into my scalp. It was kind of bizarre. But then you take a look at the mini-TV screen and you see something pretty cool. The device magnifies strands to 200 times their actual size so I saw a gleaming follicular forest–each hair was the size of spaghetti. It was kind of gross when I saw a close-up of some oil build-up around the shaft (Marina assured me this was a good thing–and it was two days deep into my blowout, at that point), but from a scientific perspective, it was pretty rad.
Marina then took me to a private room where she washed my hair and then made a custom-created hair masque concoction. She applied it to my locks and then left me to sit under a steamer for 15 minutes before rinsing and then styling my strands to a shiny, swingy finish.
Phyto Universe is located at 715 Lexington Avenue. Call (212) 308-0270 to make an appointment.


Disclosure: Service provided free by Phyto PR for editorial consideration.
Like this post? Don't miss another one! Subscribe via my RSS feed.