My brother Ethan, whose raging comic book obsesh borders on Brodie Bruce levels of intensity, alerted me to the fact that Wonder Woman #600 came out today.  It's one of the few ongoing comics to make it to 600 issues, according to Ethan, only Superman and Batman have ever done that.  Superman, Batman and Wonder Woman are the only three comics to be continually published from the "golden age" of comics.  Action Comics is actually closing in on #900.  So anyway, to celebrate the 600th Wonder Woman issue, DC comics debuted her new costume, at left.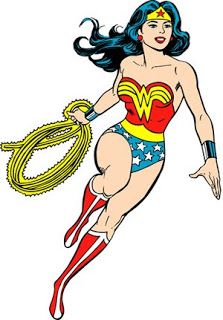 Um, I hate it.  I mean, compared to the Wonder Woman of yesterday (right), isn't her new costume a bit, I don't know, Tekken 3 or something? Or trashy barmaid? And I can't imagine those shoes are helping her save the world. Or anything. Certainly not my corneas. And is she shopping at the Lindsey Lohan store of not-pants?
I vastly prefer her iconic costume. Let me know what you think of Wonder Woman's new look in the comments.
Like this post? Don't miss another one! Subscribe via my RSS feed.