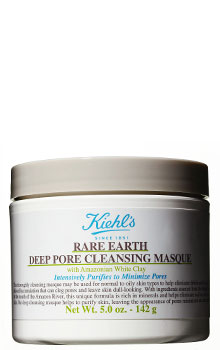 After reading Lucky's Cat Marnell's advice to Simone Kitchens about keeping masks in your shower and using them while you're in there, I gave the idea a go. My in-shower mask of choice: Kiehl's Rare Earth Deep Pore Cleansing Masque ($22). The Rare Earth line's key ingredient, Amazonian White Clay is known to remove dirt, toxins, excess oil and dead cells that can clog skin and result in enlarged pores. And no one wants that, right, dolls? This clay is sourced from Marajo Island, the largest island surrounded by fresh water in the world. The clay is gathered at the mouth of the Amazon River at the beginning of the dry season. The natural movement of the Amazon River ultimately forms the mineral rich sediment that is deposited at the Marajo Island.
The fact that today is my last day at my job at a mutual fund is kind of amazing. I feel like I'm about to press the play button on my personality after having to leave it on pause 9-5, Monday through Friday. In celebration of corporate jargon, I've decided to review Kiehl's Rare Earth Deep Pore Cleansing Masque using the words that I furiously avoid at work.
Let's drill down on this, shall we?
No need to deploy more bandwidth by applying and waiting ten minutes and THEN rinsing off. Leverage your in-shower time by employing your masque whilst you shower–it works just as well. And, you reap the bountiful benefits of a more synergistic relationship with your bathing time.
The ROI (return on investment) will surely keep you in the green when you do a cost benefit analysis. After all, I am the SME (subject matter expert) when it comes to beauty.
Kiehl's Rare Earth Pore Cleansing Masque has a pricing arrangement that may interest you at $22 and is sold at Kiehl's stores and kiehls.com. Should you have any questions, please advise.
My Finance Job Tenure by Numbers
Years in various financial writing/editing capacities: 6
Times I've referred to any of my finance jobs as my "career": 0
Times I've referred to any of my supervisors/coworkers as a mentor: 0
Number of blog posts I wrote before transitioning into the beauty industry: 2144
Times I've listened to Freedom '90 by George Michael since accepting my new job offer: upwards of 20
I'll circle back and interface with you from my new post,
Amber
Like this post? Don't miss another one!
Subscribe
via my RSS feed.