The other day, I attended a Pantene event where the talented Hallie Bowman, stylist to the stars (she's styled the locks of Kristen Stewart and Isla Fisher) provided an audience of bloggers her tips to achieving three hot 'dos. Be sure to check out the end of the post for deets on how you can be one of five winners to win a year's supply of Pantene products. Excuse the craptastic photography from my iPhone.


The Spiral Curled 'Lob
Use the Full Volume line to shampoo and condition–it's perfect for fine hair, but a lot of it. This is my hair scenar(io), what's yours? Hallie says to take a triangular section from behind your ear. Apply Pantene Pro-V Full & Thick Mousse from root to tip on damp hair. Blow dry hair while lifting hair away from scalp, periodically flipping hair over for lots of volume. (note: be sure to completely dry crown with head upside down to ensure the most volume in the right spot). Wrap hair around a curling iron and then pull the hair post-curl to make a beach wave. The key is to do this while it's still hot. Turn the iron in different directions to make it look more natural. When you are finished with curling your entire head, don't be afraid to brush your hair (Hallie recommends a Mason Pearson or boar bristle brush) for a more polished look. It won't destroy the curl. Complete the look by applying Pantene Pro-V Nature Fusion Smoothing Crème to define waves and fight frizz.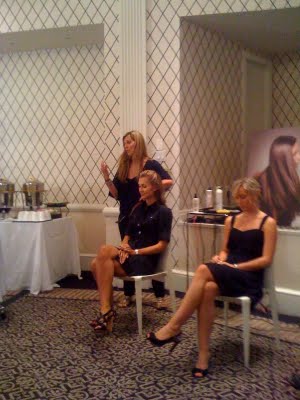 Half-up Glam
Start by using the Pantene Pro-V Nature Fusion Smooth Vitality Shampoo and Conditioner to tame frizz and fly-aways. Distribute the Pantene Pro-V Nature Fusion Smoothing Crème evenly throughout wet hair to keep locks looking smooth and frizz-free all day. Blow dry hair using a natural or combination bristle brush. Begin the style by creating a deep side part (Very Robert Palmer gal) on both sides. Bring the middle section forward (you will come back to it later) and use a clip to keep it on the top of your head. Collect sections of hair on sides of head, leaving a 2-inch section of hair out on top of the head for use later, then slick sides of hair back and collect with a bungee or clear elastic band at crown of head. Spray top section of hair with Pantene Texture Spray Wax sprayed at the root for volume. Says Hallie "Spray Wax plus a curling iron on dry hair has the effect of dry shampoo." Amazing, n'est-ce pas? Pull top section of hair back, leaving volume at the top, and secure at crown of head with pins: this will conceal elastic band. Finish with a spritz of Pantene Pro-V Classic Flexible Hold Aerosol Hairspray.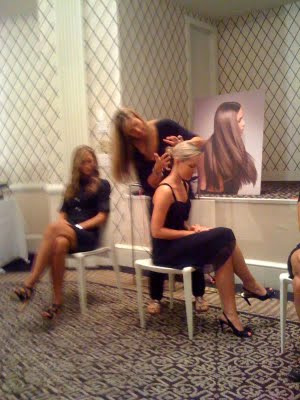 Updo Upgrade
This business in the back/party in the front look is best on medium length hair. The chignon is sleek, while the front is messy. Start by washing hair with the Pantene Pro-V Moisture Renewal Shampoo and Conditioner to keep hair hydrated with a smooth finish. Post blow-dry, pull your hair into a low ponytail and securing it with a hair bungee (2 hooks) or elastic band (a bungee won't budge and it won't pull your hair. Leave some pieces out around the face). Spray the ponytail and loose strands with the Pantene Pro-V Texture Spray Wax. Roll the ponytail from ends to root, creating a barrel roll (see picture above). Holding the ends of the barrel with one hand, wrap the roll around the bungee in a donut shape and secure it to your head with pins. For the sections around the face, wrap around a medium-sized curling iron, wrapping from root to end for loose tousled waves (like in the Lob example). Complete the look with Pantene Pro-V Ice Shine Hairspray.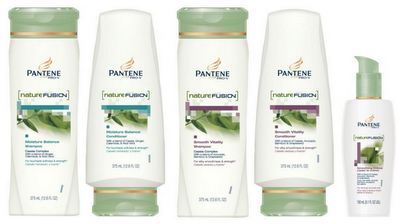 The best news? Pantene has sponsored a giveaway for give BBJ readers to win a year's supply of Pantene Nature Fusion products:
Pantene

Pro-V Nature Fusion Smooth Vitality Shampoo
Pantene

Pro-V Nature Fusion Smooth Vitality Conditioner
Pantene

Pro-V Nature Fusion Smoothing Crème
Each winner will receive five of each product. Fun, right? Enter by telling me in the comments which 'do mentioned above you like most. Deadline is Friday, August 28 at 5pm. Winners will be announced on Monday, August 31. Good luck!

Like this post? Don't miss another one!
Subscribe
via my RSS feed.