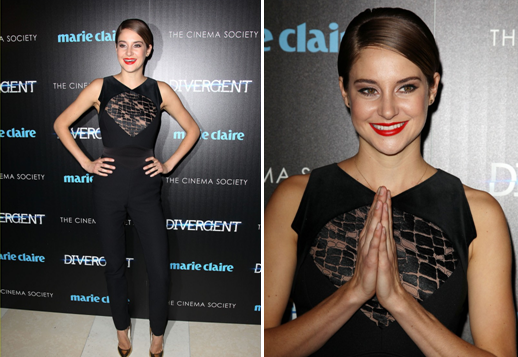 Divergent opens this weekend and the YA fangirl in me is anxiously awaiting my Saturday afternooon showtime.  Star Shailene Woodley looked stunning at the movie's premiere. Shailene's go-to makeup artist, Roxy, created a spring-inspired look focusing on flawless skin with a pop of color on the lips that complimented her black, sleeveless Elie Saab jumper. Said Roxy, "We wanted to create an empowering, confident look and we drew inspiration from Audrey Hepburn's classic eyeliner. We then added strong definition with shadows to really spotlight her eyes while not being so bold that we couldn't rock the red lip too. She's very young and youthful and too much makeup can appear aging.  In general, we never want anything overshadowing or hiding her natural beauty!" Here, the beauty breakdown to Shailene Woodley's Divergent premiere makeup look, in Roxy's words.
Skin Care
"Shailene is really good about taking care of her skin, so we don't need to worry too much about adding extra hydration. I generally just spritz a hydrating elixir all over her face, neck, and a little bit on her décolleté. We love one that's enhanced with natural ingredients that act as aromatherapy and awaken the skin; it's the perfect skin prep product.
Foundation
I applied Physicians Formula Organic Wear CC Cream in Light/ Medium with my favorite foundation brush (the #6 from Chanel). Starting at the center of her face, I blended it outwards until it melted perfectly into her skin. I love how much pigment this gives, which allows for great coverage, and it erases any unwanted shadows or imperfections. The texture is light, which helps to create a flawless natural looking finish. The end result is a complexion that is even and glowing, it the best version of your skin. Using natural products is very important to Shailene and this one doesn't compromise performance at all.
Concealer
I used a golden peach toned concealer under her eyes and along the edges of her nose to keep this area fully highlighted and bright.
Blush
I used a bold lipstain in a beautiful soft coral hue, and I applied it to the very top of her cheeks, almost closer to her temples. I used a swirl and "POP" motion that gives an almost airbrushed feeling and look to the skin. Because of the strong eye and bold lip, I didn't want to create a "blush-ie" look, so that placement is ideal to add a hint of color, without being too noticeable.
Bronzer
I used Physicians Formula Natural Wear 100% Natural Origin Bronzer in LIGHT to contour her cheekbones using a tapered brush. Underneath the cheek bone, I applied it in a back and forth motion to give it real structure. It incorporates that strong "heroine" look, that's reflected in her jumper. 
Eye Shadow
In her crease line (using circular motions) and blending right to left – I used a golden honey shadow that's a shimmery, soft, champagne brown, perfect for adding the right amount of definition. I then applied a subdued beige shade that glimmers in the center of the lid to emphasize the eyes, making them look bigger. Lastly I applied a white highlighting color in the inner corner of her eyes. It's a great way to open up the eye and really make them sparkle.
Eye Liner
I used a waterproof black liner along the top of her lashline, being careful not to make the line to thin or too thick. I used the edge of the brush, which was bent, allowing for a more precise application. I start at the outer edges, where I brush on a thicker line, and taper it as I move towards her tear duct. I find that this route is easier, and that you have more control of the line, when you start at the outer edge. Typically wherever you begin applying product, it will always be heavier, so it's a great trick for that fuller exterior lashline. I applied a little bit to the bottom lash line, and STOPPED at the middle and blended out with a small shadow brush, creating more balance to the eye.
Mascara
Shailene loves to apply her own mascara, and does an impeccable job with it. I love watching her connect with herself and her look in that moment. She knows how to give it the right amount to pop her lashes, while still keeping them defined and voluminous. She applied Physicians Formula Organic Wear 100% Natural Origin CC Curl + Care Mascara to both top and bottom, but more subtle on the bottom.
Lips
Shailene also loves to apply her own lipstick. Again, this is a continuation in her being an integral part of her look, giving her a moment to connect back with herself, before being in front of the public's eye.  She applied a stain straight from the tube and used her finger to blend the product perfectly into her lips, while still maintaining the vibrant color."
What do you think? And TELL ME if you're seeing Divergent this weekend. Go.