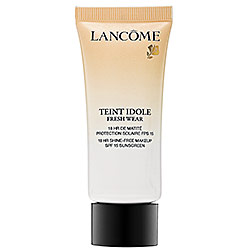 Gals, how was your Fourth? Mine was great, until I GLAMtraked it home to New York from my parents' house (A.K.A. my country home–that epithet is only used on holiday weekends when I have no fabulous plans) not realizing I'd sat in one of the two cars of the train with broken AIR CONDITIONING. On a near 100 degree day. It was Calcutta hot. It's an understatement to say that I was uber-effing-pissed.
But the good news is that I was rocking my new Lancome Teint Idole Fresh Wear Foundation ($32), the only acceptable makeup in climes like these. It's lighter than light, goes on sheer and remains flawless and shine-free in the most vile conditions–up to 18 hours.
I mean, I had surmised it would still look fabulous in a freaking sauna, but since the unintentional lab experiment, now I know for sure.
Lancome Teint Idole Fresh Wear Foundation is available at Lancome counters nationwide and at Lancome-usa.com.
Disclosure: A sample was provided by Lancome PR
Like this post? Don't miss another one! Subscribe via my RSS feed.