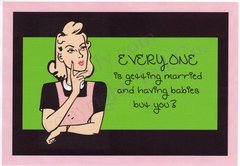 It's my personal belief that most cards other than thank-you cards and sympathy cards are complete and utter bullshit. Except when they're of the kitschy bitchy variety. My gal Stef Behr (creator of Behressentials as well!) created tudify.com due to her repeated disgust with the sappy, meaningless crap spewing from overpriced greeting card monopolies. She wanted a niche for the mean, the funny, and the kitschy. My personal fave? The one to the left.
At Tudify, you can get unusually original and fabulously rude greeting cards for holidays, birthdays, weddings, breakups, hate cards and more. Stef offers package discounts and custom message options on every card in the collection. There are even color options for your envelopes: Red, blue, purple, and white. And best of all, these cards are affordable (they don't cost much more than the sappy Hallmark variety) and shipped right to your door.
Want to win a custom 10-pack of Tudify cards? The winner will simply pick any 10 cards she wants from the website. Every card has a specific title, so you can list which ones they want.
Enter by commenting here or by following me on Twitter (@glambr) and RTing Follow me and enter to win a set of 10 Tudify kitschy bitchy cards http://ow.ly/219ep. That's it. I'll choose a winner on Friday, June 25.
Good luck!
Like this post? Don't miss another one! Subscribe via my RSS feed.